Lupe Under the Sun
Lupe Bajo el Sol
This neo-realist portrait of a Mexican itinerant worker in California is an empathetic and poetic reflection on the 'no-man's land' of migrant identity.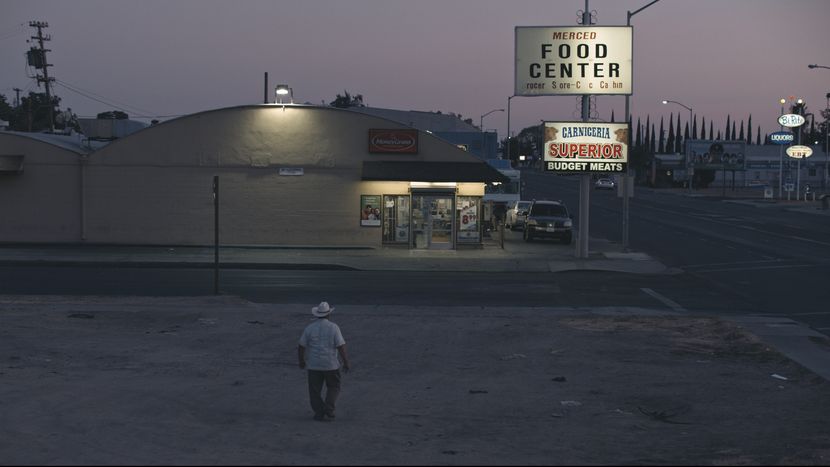 Dir-Scr Rodrigo Reyes
Prod Su Kim, Inti Cordera
With Daniel Muratalla, Ana María Muratalla
Mexico-USA 2016
78min
Prod Co Grumpy Squared
These members of the filmmaking team are expected to attend the festival:
Pau Brunet, Executive Producer; Rodrigo Reyes, Director
See the full list of visiting festival guests. Please note that we can't guarantee guest attendance at any particular screening.
Ageing migrant labourer Lupe is a man of few words. Working as a fruit picker in California, his days are occupied with well-worn ritual: preparing his daily lunch, catching a ride to work, riding his bike through the sun-dappled suburbs to visit his girlfriend Gloria. However, when a visit to the doctor reminds him of his mortality, Lupe finds his thoughts turning to a past existence that he left behind when he crossed into the US. Rodrigo Reyes' (Purgatorio) second feature once again examines life on the US-Mexico border. It is imbued with an elegiac tone as it deals with the 'no-man's land' of migrant identity, particularly in the way it was inspired – in part, at least – by stories Reyes' grandfather told him. Employing non-professional actors and real locations, Reyes' delicately poetic work shows migration to be both an emboldened act of hope and a frightening leap into the unknown.
Jemma Desai
Image gallery