The Garbage Helicopter
Sophelikoptern
There probably isn't such a thing as a 'garbage helicopter'. It's just another on-the-road misnomer spouted by Saska, a crossword-obsessed wannabe poet.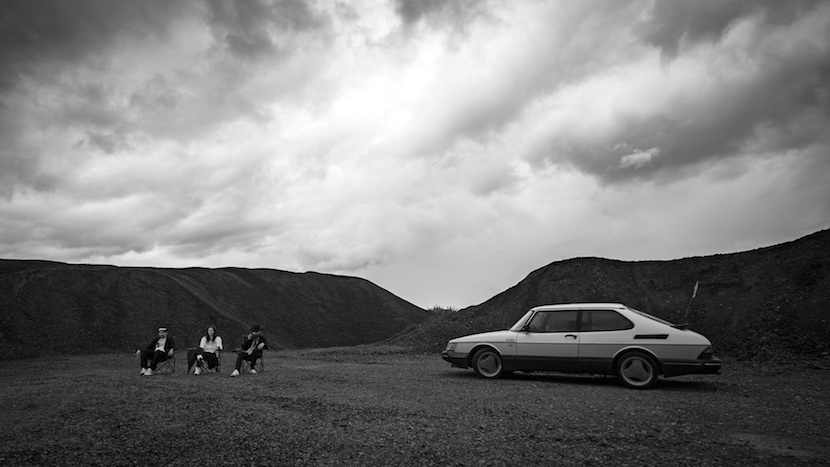 Director Jonas Selberg Augustsén
Producers Andreas Emanuelsson, Jan Blomgren
Screenwriter Jonas Selberg Augustsén
With Jessica Szoppe, Christopher Burjanski, Daniel Szoppe
Sweden-Qatar 2015
99 mins
Production company Bob Film

This is what you were waiting for – a 1,000km road trip across Sweden with a broken clock, a giant roll of bubble-wrap, the world's largest cheese-slicer and a crossword-obsessed wannabe poet who really isn't that good with words. This slightly surreal premise sets the tone for the Saab-powered southward journey of three Swedish Roma twentysomethings, Baki, Saska and Enesa, to their aging granny's home. Peppered with visual gags, bone-dry humour, wry digs at national pride and showcasing exquisite black and white cinematography, Jonas Selberg Augustsén's debut feature has echoes of Jim Jarmusch and Roy Andersson but also a visual style all of its own. No less unique is Augustsén's humour as he crafts a road movie that celebrates and gently pokes fun at some of the more eccentric elements of Swedish culture. And with the lightest of touches he also makes some pointed comments on lazy ethnic assumptions.
Sarah Lutton
Image gallery