The Creator of the Jungle
Sobre la marxa
A middle-aged man builds a magnificent hideaway in the heart of a Catalan forest in this fascinating documentary.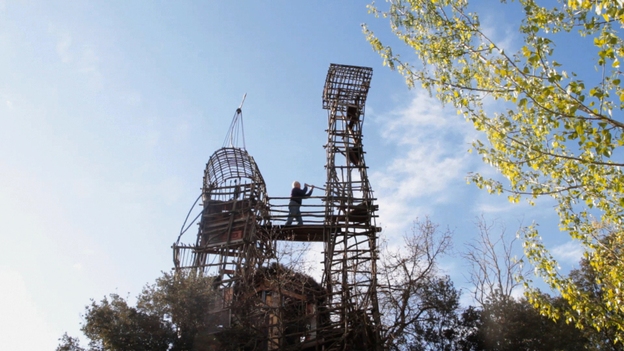 Open image gallery
Director Jordi Morató
Producer Isaki Lacuesta, Isa Campo, Jordi Morató
Screenwriter Jordi Morató
With Josep Pijiula
Spain

2014

77 mins
Production company La Termita Films
In the early 1990s, in a forest near the Catalan village of Agrelaguer a middle-aged man known as Garrell built a vast complex of mazes and towering, inhabitable structures with wood from the surrounding trees. It's here, in this sprawling playground of covered tracks, dammed rivers, connected tree houses and rope swings, that Garrell lives out Tarzan-like fantasies performing – with a physical agility that belies his advancing years – scenarios he's cooked up with a local teenager, who films his escapades on a video camera. This exhilarating footage is the basis for Jordi Morato's fascinating documentary. Forced to destroy his first 'jungle' realm, Garrell rebuilds it twice more, with increasingly spectacular results: Garrell's cathedral-like structures need to be seen to be believed, extraordinary follies that may well be masterpieces of outsider art. A stirring tribute to one man's creativity and his indefatigable spirit of play.
Edward Lawrenson