The Young Offenders
Two halfwit Irish teenagers get in over their heads when they plot to steal cocaine washed up on the Irish coast in a drugs bust.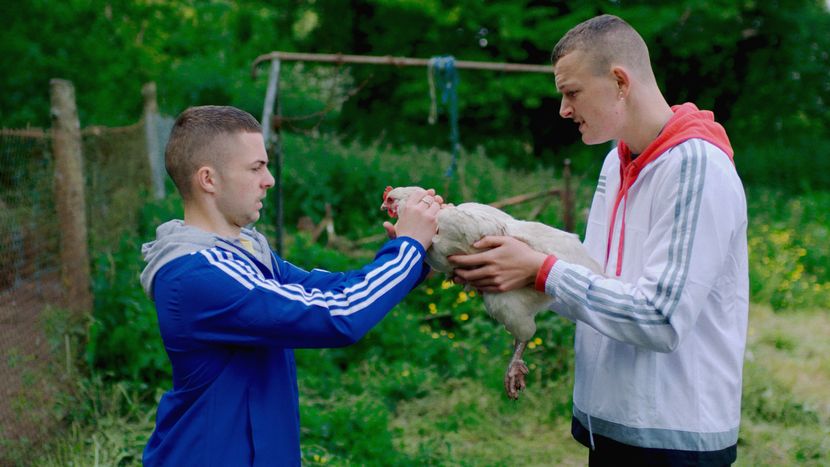 Dir-Scr Peter Foott
Prod Peter Foott, Julie Ryan
With Alex Murphy, Chris Walley, Hilary Rose
Ireland 2016
84min
Prod Co Vico Films
These members of the filmmaking team are expected to attend the festival:
Peter Foott, Director; Alex Murphy, Lead Cast; Hilary Rose, Lead Cast; Julie Ryan, Producer; Chris Walley, Lead Cast
See the full list of visiting festival guests. Please note that we can't guarantee guest attendance at any particular screening.
Using the reality of Ireland's record €440 million cocaine seizure in 2007 as a springboard, this buzzing buddy comedy follows two Cork teenagers' attempts to cycle to the coast and nab a washed-up bale of drugs to make their fortune. The plan should be idiot-proof. Unfortunately, our wannabe criminal masterminds Conor and Jock are 24-carat eejits. And if their plans go awry pretty much from the get-go, their hapless attempts to outwit the local police, a psychotic dealer and Conor's no-nonsense single mum are a riot of deadpan dopiness and knockabout slapstick from start to finish. Neophyte feature writer-director Peter Foott and his terrific debutant leads maintain a blissfully innocent/ignorant tone throughout; and while the relationship between Conor and his mum (Hilary Rose, excellent) is genuinely touching, this caper is pure 'craic' cocaine, including the best visual nose-candy gag since Woody Allen's Annie Hall.
Leigh Singer
Image gallery