Viaggio in Italia
Journey to Italy
Rossellini's anguished masterpiece about the breakdown of a marriage, superbly restored by the Cineteca di Bologna, with commanding performances by Ingrid Bergman and George Sanders.
Even if a screening is sold out, tickets are often available 30 minutes before the start of the film at the box office at each venue.

Image gallery
Director Roberto Rossellini
Producer Roberto Rossellini, Adolfo Fossataro, Alfredo Guarini
Screenwriter Roberto Rossellini, Vitaliano Brancati
With Ingrid Bergman, George Sanders, Maria Mauban
Italy

1954

97 mins
Arguably the greatest of Rossellini's films, this piercing study of a marriage on the rocks is also one of the cinema's most miraculous love stories. Its magic lies partly in the pitch-perfect casting of Sanders as cynical, supercilious English businessman Alex Joyce and Bergman as his restless wife Katherine. Already bored when they reach a property they're selling, the troubled couple allow differences in taste and temperament to drive them towards divorce, even as Naples, Capri and Pompeii take their toll... while Rossellini's customary interest in documentary realism enhances the depiction of the region's influence on the disenchanted pair, he here moves far beyond social realities to focus on the kind of deeper emotional and psychological truths one finds in Bergman or Antonioni. This digital restoration by Cineteca di Bologna does justice to the immediacy of Enzo Serafin's images and a colourful soundtrack; the film remains wondrously alive.
Geoff Andrew
Bergman & Magnani: The War of Volcanoes
La guerra dei vulcani
Director Francesco Patierno
Producer Clara Del Monaco
Screenwriter Chiara Laudani, Francesco Patierno
Italy 2012
52min
Sales WIDE
A scintillating documentary: a delightfully gossipy combination of film history and romantic soap. Consisting of glorious film clips, black & white and colour archive footage and newsreel, War of the Volcanoes plots the 50s scandal surrounding legendary Italian director Rossellini's dumping of his star and lover, Anna Magnani, in favour of a new creative and emotional affair with Swedish-Hollywood icon Ingrid Bergman. The result was tabloid headlines galore, and – stoking them – two rival films in production at the same time on near-adjacent Aeolian islands: Volcano, starring Magnani, and Rossellini's own Stromboli, featuring, of course, his new muse Bergman. A revealing treat.
Adrian Wootton
Roberto Rossellini filmography (selective)
1942 La nava bianca (The White Ship); Un pilota ritorna
1943 L'uomo dalla croce
1945 Roma, città aperta
1946 Paisà
1947 Germania anno zero
1948 L'amore
1949 Stromboli
1950 Francesco, giullare di dio
1952 Europa '51; The Seven Deadly Sins [ep Envy only]; La Macchina ammazzacattivi (The Machine that Kills Bad People)
1953 Viaggio in Italia; Siamo donne [ep Ingrid Bergman only]; Dov'è la libertà...?
1954 Amori di Mezzo Seccolo [ep Napoli 1943 only]; La paura; Giovanna d'Arco al rogo
1958 India: Matri Bhumi [doc]
1959 Il Generale della Rovere
1960 Era notte a Roma (Wait for the Dawn)
1961 Torino nei cent'anni [doc]; Viva l'Italia!; Vanina Vanini
1962 Anima nera
1963 RoGoPaG [ep Illibatezza only]
1966 La Prise de pouvoir par Louis XIV [TV]
1967 Idea di un'isola
1969 Atti degli apostoli [5 parts]
1970 Da Gerusalemme a Damasco [doc]
1971 Socrate [TV]
1972 Blaise Pascal [TV]; Agostino d'Ippona [TV]; The Age of Cosimo de Medici
1974 Cartesius (Descartes); Anno uno (Italy: Year One)
1975 Il messia
1977 Beaubourg [doc]; Concerto per Michelangelo [doc]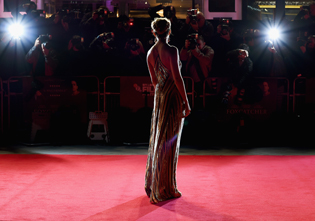 BFI Membership
Enjoy priority booking for the BFI London Film Festival, and a world of benefits year round.