A Quiet Passion
Terence Davies returns with an elegant and deeply moving biopic of poet Emily Dickinson, played with sensitivity and rebellious spirit by Cynthia Nixon.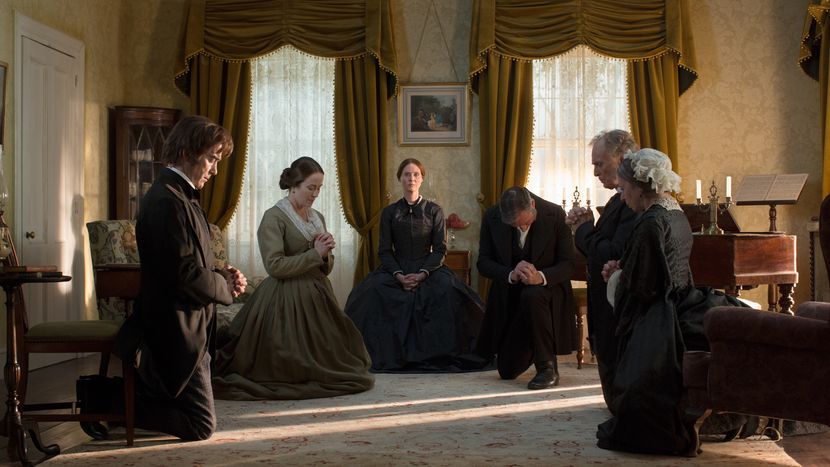 Dir-Scr Terence Davies
Prod Sol Papadopoulos, Roy Boulter
With Cynthia Nixon, Jennifer Ehle, Duncan Duff
UK-Belgium 2016
125min
Sales Double Dutch Media
These members of the filmmaking team are expected to attend the festival:
Roy Boulter, Producer; Terence Davies, Director; Cynthia Nixon, Cast; Sol Papadopoulos, Producer
See the full list of visiting festival guests. Please note that we can't guarantee guest attendance at any particular screening.
Emily Dickinson is a nonconformist who cannot smooth her own sharp edges. Whether as poet, daughter or woman of faith, she finds herself at odds with the diktats of religion and society. Retreating into the bosom of her Massachusetts family, relief comes in the form of a new neighbour, Vryling Buffam, who offers Emily an equal of the mind, as well as some excellent sassy badinage. But Dickinson's longings for romance, and insecurities about her own attractiveness, are at odds with the amount of love she has to give. Featuring a finely curated selection of her poems in voiceover, A Quiet Passion details many facets of Dickinson's character: her wit and linguistic command; an inescapable melancholy, and her poetry's transcendent ability to connect with other people in ways she cannot.
Cynthia Nixon is superb in a role spanning Dickinson's adult life, making vivid the notion that the parts of our personality that harden over time are rarely the ones we'd choose. As a biopic, its reach extends well beyond existing lovers of her poetry (although you'll be challenged not to be a fan by the end) and Terence Davies once again proves himself to be astonishingly sensitive to the nature, dreams and disappointments of women.
Kate Taylor
Read Sight & Sound's review of the film, by Geoff Andrew.
Image gallery