Cemetery of Splendour
Rak ti Khon Kaen
Acclaimed Thai director Apichatpong Weerasethakul returns with a typically sublime, lyrical and visually ravishing tale of a unit of soldiers afflicted by a strange malady.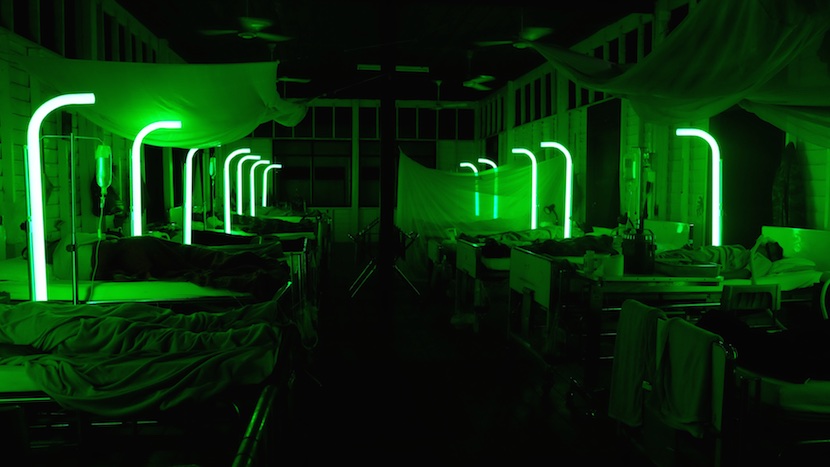 Director Apichatpong Weerasethakul
Producers Keith Griffiths, Simon Field, Charles de Meaux, Michael Weber, Hans Geissendörfer
Screenwriter Apichatpong Weerasethakul
With Jenjira Pongpas Widner, Jarinpattra Rueangram, Banlop Lomnoi
Thailand-UK-France 2015
122 mins
UK distribution New Wave Films
The hypnotic filmmaking of Apichatpong Weerasethakul – whose Uncle Boonmee Who Can Recall His Past Lives won the Palme d'Or at Cannes Film Festival in 2010 – is infused with a dreamy tropical heat that frequently plays havoc with narrative, reality and his characters. In his latest beguiling creation, a group of soldiers have succumbed to a mysterious sleeping sickness. They are transferred to a temporary clinic in a former school (not unlike the regional hospital setting of Syndromes and a Century), where friendly local volunteer Jenjira (Jenjira Pongpas Widner) tends to Itt (Banlop Lomnoi), a handsome soldier who receives no visitors. Hovering by the bedside of the other men is a young medium Keng (Jarinpattra Rueangram), who uses her considerable psychic power to help visiting family and friends communicate with their comatose loved ones (though she cannot guarantee they will always hear what they want). As events quietly unfold, Jenjira begins to suspect that the soldiers' enigmatic syndrome links them to an ancient burial ground that lies beneath the clinic. Rippling with sly humour and emanating a profound sense of magic, the film conjures – rather than implies – the political uncertainty of contemporary Thailand. Weerasethakul's coded lament for his homeland is as joyful as it is melancholy.
Clare Stewart
Image gallery