Laugh Gala
Wild Tales
Relatos salvajes
Six hilarious short stories combine to form a macabre tango at the gates of madness in this outrageous comedy about the trials of modern life.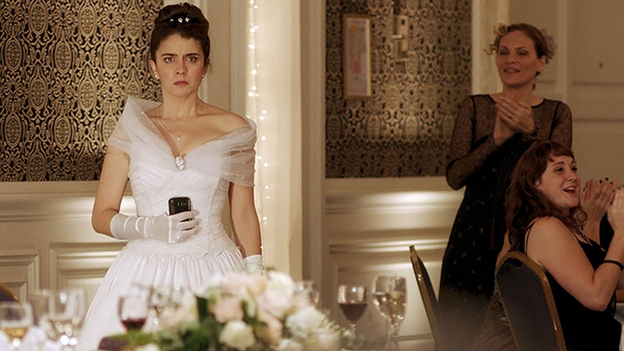 Open image gallery
Director Damián Szifrón
Producers Agustín Almodóvar, Pedro Almodóvar, Esther García, Matías Mosteirín, Hugo Sigman
Screenwriter Damián Szifrón
With Rita Cortese, Ricardo Darín, Nancy Dupláa
Argentina-Spain

2014

122 mins
UK distribution Artificial Eye
Road-rage drivers, loan sharks, shady lawyers, critics, corrupt politicians, cheating husbands, traffic wardens – all the pressure points of 21st-century life get a roasting in this delirious black comedy from Argentina. Bringing together six unrelated stories in a gloriously retro-styled portmanteau package, beginning with the economic and stunningly funny opener 'Pasternak', Wild Tales hot-wires the dry, mordant satire patented by Luis Buñuel with the manic pop energy of the post-Tarantino generation. The participation of the Almodóvar brothers as producers is no surprise – Wild Tales brings to mind such frantic early El Deseo productions as Labyrinth of Passions and Women On the Verge of a Nervous Breakdown – but director Damián Szifrón brings his own voice and style, not to mention some of the biggest names in Argentine cinema (notably Ricardo Darín as a demolition expert who becomes a criminal celebrity and Leonardo Sbaraglia as a yuppie who encounters Deliverance-style payback). The icing on the cake is the score by Gustavo Santaolalla; his Latin-funky, twangy, world-weary Ennio Morricone-flavoured theme song sticks in mind just as readily as the late Bobby Womack's cover of 'Fly Me to the Moon', which Szifrón sagely uses to accompany the wedding dance from hell in the final story, 'Till Death Do Us Part'.
Damon Wise
The screening on Sunday 12 October will be BSL interpreted.