In the Last Days of the City
Akher ayam el medina
A frustrated filmmaker roams the streets of pre-revolution Cairo as a city, and a region, teeters on the brink of exploding.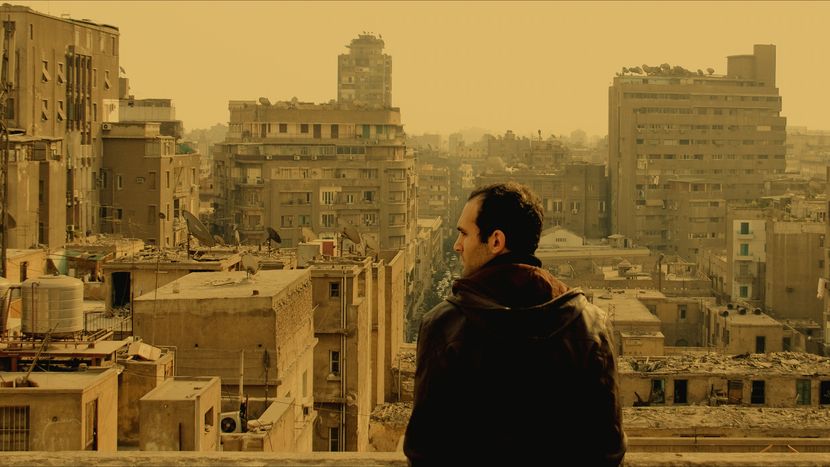 Dir-Prod Tamer El Said
Scr Tamer El Said, Rasha Salti
With Khalid Abdalla, Laila Samy, Hanan Youssef
Egypt-UK-Germany 2016
118min
Sales Still Moving
These members of the filmmaking team are expected to attend the festival:
Khalid Abdalla, Producer/Lead Cast; Tamer El Said, Director; Laila Samy, Lead Cast; Cat Villiers, Producer; Verena Von Stackelberg, Associate Producer
See the full list of visiting festival guests. Please note that we can't guarantee guest attendance at any particular screening.
In the time Tamer El Said spent making In The Last Days of the City, the Arab world he sought to capture changed beyond recognition. Particularly Cairo, Baghdad and Beirut. An Egyptian, El Said's natural affinity, and the film's main focus, is on Cairo itself. The year is 2009 and we follow frustrated filmmaker Khalid Abdalla as he tries to finish a film that torments him, taking in his dealings with a soon-to-be ex-girlfriend, a suitably annoying estate agent and his friends, similarly exiled on their own islands of loneliness. The turmoil that will engulf the city is still around the corner, but evident now with hindsight and all the more prescient for it. This is a city on edge, but El Said's gift is to detail the quiet moments before the storm. It's a powerful, elegiac tribute to what once was, weighed down with waspish melancholy and occasionally dreaming of what might have been.
Ali Jaafar
Image gallery