The Drop
Based on a story by acclaimed US crime writer Dennis Lehane, this is a smart and thrilling drama featuring a standout performance by Tom Hardy.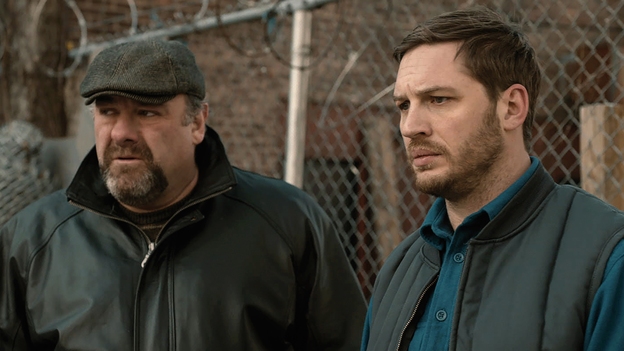 Open image gallery
Director Michaël R. Roskam
Producers Peter Chernin, Jenno Topping
Screenwriter Dennis Lehane
With Tom Hardy, Noomi Rapace, James Gandolfini
USA

2013

107 mins
UK distribution Twentieth Century Fox
A satisfying slab of Brooklyn noir from the pen of Dennis Lehane, The Drop will delight anyone who digs crime drama, James Gandolfini or puppies. Bob (Hardy) may not be the quickest of men, but he's fine with his lot, tending bar for Cousin Marv (Gandolfini), going to church and keeping his head down in a neighbourhood where Marv's days of goodfella status have long been surpassed by a more vicious strand of gangster. But trouble finds Bob when he hears a whimpering sound in a trash can, recovering an abandoned mutt and bringing him into contact with damaged young woman Nadia (Rapace). Adaptations of Lehane's work (Mystic River, Gone Baby Gone, Shutter Island) have flourished in the hands of high-profile directors, and here Belgian helmer Michaël R Roskam presents a supremely confident follow-up to his debut Bullhead, with a cast at the top of their game and who clearly relish the richly textured script.
Kate Taylor
The screening on Monday 13 October will have audio-description and English subtitles for the Hard of Hearing.