Indivisible
Indivisibili
A vivid, neo-gothic fairy-tale about two conjoined twins who make their living as singers, but one of them longs to live an independent life.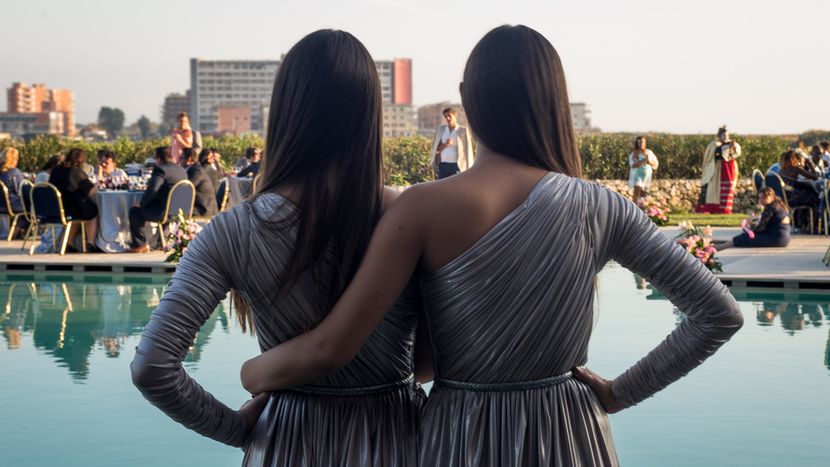 Dir Edoardo De Angelis
Prod Attilio De Razza, Pierpaolo Verga
Scr Nicola Guaglianone, Barbara Petronio, Edoardo De Angelis
With Angela Fontana, Marianna Fontana, Antonia Truppo
Italy 2016
104min
Sales True Colours
These members of the filmmaking team are expected to attend the festival:
De Razza Attilio, Producer; Edoardo De Angelis, Director
See the full list of visiting festival guests. Please note that we can't guarantee guest attendance at any particular screening.
This Neopolitan neo-gothic fairytale is an entrancing combination of the grit and grotesque that often characterises films set in this Italian city. Two conjoined teenage sisters exist as the centre of a bizarre family business, where they are star singing performers. They're valued for their uniqueness, appearing at weddings, christenings and religious celebrations. Everything is fine until one of the twins learns they can be safely separated and starts to demand the operation. With echoes of Fellini and Kusturica, Indivisible has a distinctly satirical, tragi-comic tone but retains an emotional empathy and warmth for the plight of the sisters and their life, surrounded by adults who exploit them. Superbly directed by Edoardo De Angelis, who imbues Indivisible with a rich visual style and memorable images, the film features terrific performances from the two real-life sisters, Angela and Marianna Fontana.
Adrian Wootton
Image gallery