Mascots
An assortment of furry costumed performers battle it out at the World Mascot championships in the new 'mockumentary' from Christopher Guest and his regular crew.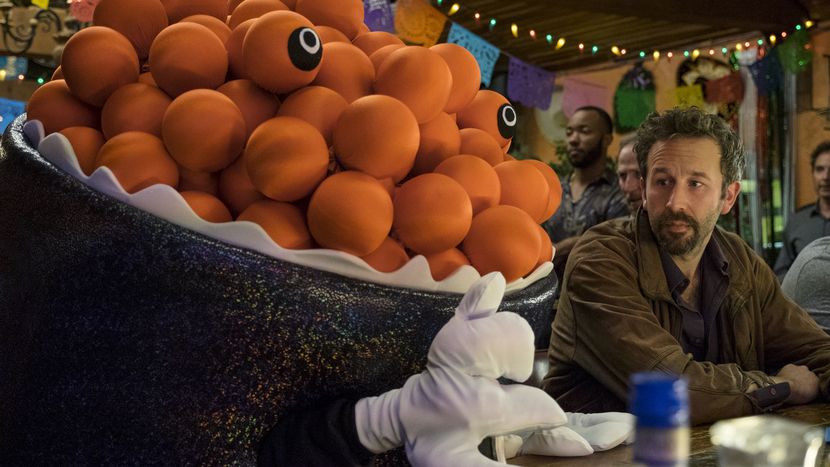 Dir Christopher Guest
Prod Karen Murphy
Scr Christopher Guest, Jim Piddock
With Chris O'Dowd, Parker Posey, Jennifer Coolidge
USA 2016
89mins
UK Distribution Netflix
These members of the filmmaking team are expected to attend the festival:
Christopher Guest, Director
See the full list of visiting festival guests. Please note that we can't guarantee guest attendance at any particular screening.
Community theater (Waiting for Guffman), competitive dog shows (Best in Show), the folk music circuit (A Mighty Wind). Comedy legend Christopher Guest and his crack team of collaborators have made their mark, massively influencing modern Anglo-American comedy through an improv-infused, documentary-styled approach. They put arcane, eccentric subcultures under a microscope, affectionately magnifying the practitioners' fervor and foibles. For their new (and, frankly, long overdue), Netflix-backed outing, Guest and company focus on 'The 8th World Mascot Association Championships'. Here, a motley group of cheerleading competitors, clad in a bizarre array of furry costumes, battle it out in increasingly elaborate choreographed routines. Once again it's fertile territory for these consummate comic observers (repertory all-stars Jane Lynch, Fred Willard, Parker Posey and Chris O'Dowd), by turns hilarious and melancholy but always achingly human. And longtime Guffman fans will surely delight in an unexpected bonus 'Guest' appearance.
Leigh Singer
Image gallery