Spaceship
British teen cinema gets an injection of hallucinogenic imagination, plus a few unicorns and aliens, in Alex Taylor's debut feature Spaceship.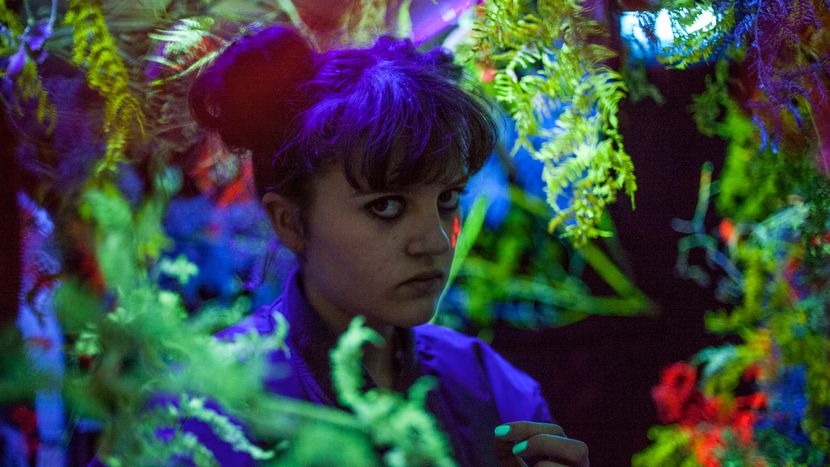 Dir-Scr Alex Taylor
Prod Nicola Bowen, Olivier Kaempfer
With Antti Rein, Alexa Davies, Lara Peake
UK 2016
90min
Prod Co Belly Productions, Parkville Pictures
These members of the filmmaking team are expected to attend the festival:
Nicola Bowen, Producer; Lucian Charles Collier, Lead Cast; Jodie Davidson, Post Production; Alexa Davies, Lead Cast; Tallulah Haddon, Lead Cast; Olivier Kaempfer, Producer; Lara Peake, Lead Cast; Alex Taylor, Director; Lee Twohey, Post Production
See the full list of visiting festival guests. Please note that we can't guarantee guest attendance at any particular screening.
Alien abduction, unicorns, teenage BDSM role-play and a heavy metal dad...not your usual fare for British cinema. But then feature debut Spaceship is not your usual British film. Celebrated shorts director (Kids Might Fly) Alex Taylor returns to the LFF with a dayglow examination of teen ennui in the affluent Surrey commuter belt. Following the death of her mother, Lucidia (an ethereal and bewitching Alexa Davies) lives with her Finnish archaeologist father. He spends long days at work, talking Nordic metal while digging in the woods. Lucidia, meanwhile, flits around with her misfit community of cyber goth peers (an intriguing ensemble, led by the electrifying Tallulah Haddon). But there is a distinct coldness in these largely abandoned middle-class kids. And when Lucidia is seemingly abducted by aliens, they're macabrely fascinated rather than concerned. With a powerful soundtrack, expressive photography and exuding shades of Korine and Araki, Spaceship presents a rousingly fresh new voice in British cinema.
Tricia Tuttle