Yellowbird
A glorious animation, exploding with colour, about a bird afraid to go out into the world and the ladybird that comes up with a plan to help him.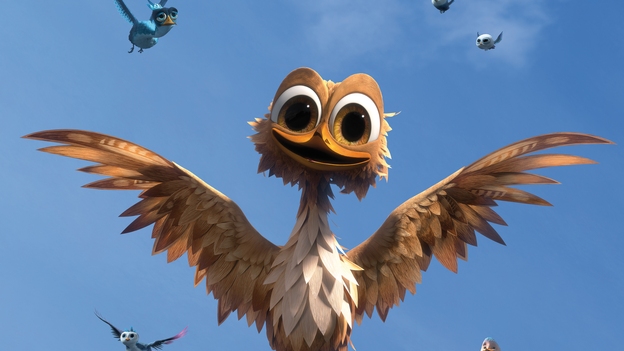 Director Christian De Vita
Producer Corinne Kouper
Screenwriter Antoine Barraud
With Seth Green, Dakota Fanning, Danny Glover, Elliott Gould, Jim Rash
France

2014

90 mins
Sales SC Films International
Suitable for all ages
Yellowbird lives in the ruins of an old house. He lacks the confidence to leave his home, no matter how much Bug, his labybird friend, tries to convince him to go out into the world. Attempts to toughen him up have had little success, so Bug seizes an opportunity that leaves Yellowbird unexpectedly finding himself the new leader of the flock that is migrating to Africa. Still, lacking faith in his own abilities and with danger and imminent failure lurking around every corner, our feathered hero is forced to either find the strength required to work with the team or bow out and stay hidden away forever. Aiding director Christian De Vita are Cory Edwards (Hoodwinked!) who provided additional script support and designer Benjamin Renner (co-director Ernest and Celestine, LFF 2012). Funny and exciting in equal measures, we are delighted to present the world premiere of this animated family tale.
Justin Johnson