Journey Gala in association with Sight & Sound
Winter Sleep
Kış Uykusu
Beautifully performed, scripted and shot, Nuri Bilge Ceylan's Palme d'Or-winner is an incisive, intimate epic about male foibles and marital tensions.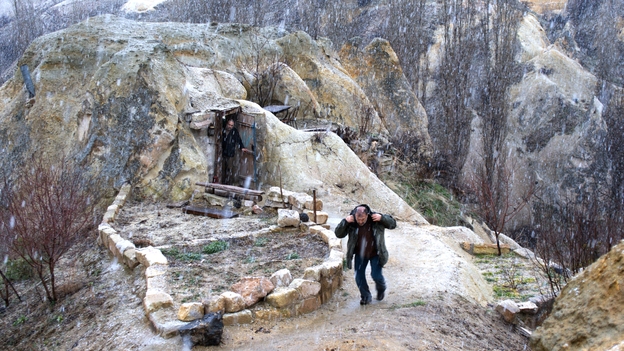 Open image gallery
Director Nuri Bilge Ceylan
Producer Zeynep Özbatur Atakan
Screenwriter Nuri Bilge Ceylan, Ebru Ceylan
With Haluk Bilginer, Melisa Sözen, Demet Akbağ
Turkey

2014

196 mins
UK distribution New Wave Films
Deserving winner of this year's Cannes Palme d'Or, Nuri Bilge Ceylan's extraordinary film blends a daringly digressive and extended narrative structure (foreshadowed in Once Upon a Time in Anatolia) with the uneasy intimacy and incisive bite of a Bergman chamberwork. Retired actor Aydin (Bilginer) lives with his young wife Nihal (Sözen) and divorcee sister Necla (Akbað) at his boutique hotel in remote Cappadocia; generally preoccupied with committing whatever comes into his head to a local newspaper column, he leaves any business with his late father's tenants to his manager. Then a boy hurls a stone at his car, upsetting his routine... Ceylan has long been an insightful and uncommonly honest observer of the male psyche, and his clear-eyed dissection of Aydin's capacity for apathy, self-deception and passive aggression is as illuminating, witty and Chekhovian as ever. But Ceylan's pushing himself (and us): availing himself of more dialogue than hitherto and manoeuvring the marital, familial and other tensions so skilfully that the cosily lit interiors become almost claustrophobic, he leads us through a long, wintry night of the soul towards a revelation as pleasingly tentative as it is profoundly affecting. Cool yet compassionate, this is filmmaking of the first order.
Geoff Andrew