When Animals Dream
Jonas Alexander Arnby blends Nordic noir and grisly coming-of-age fantasy in this modern werewolf tale.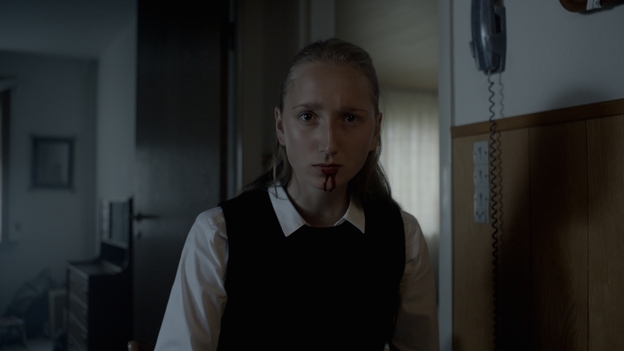 Director Jonas Alexander Arnby
Producers Ditte Milsted, Caroline Schlüter
Screenwriter Rasmus Birch
With Lars Mikkelsen, Jakob Oftebro, Sonja Richter
Denmark

2013

84 mins
UK distribution Altitude Film Distribution
As witnessed in Carrie White's menstrual misfortunes, or the young heroine's animalistic transformation in Ginger Snaps, the macabre horrors of puberty have been well served on the cinema screen. With his accomplished debut, Jonas Alexander Arnby offers his own take on the agonies of adolescence with an intriguing mix of Nordic noir and grisly coming of age fantasy. Marie lives in a small fishing village on the remote coast of Denmark with her protective father and heavily sedated, wheelchair-bound mother. When Marie takes a job at a nearby fish factory, she starts to realise the local community are wary of her reclusive family. As she undergoes a disturbing physical transformation, Marie must face the deadly secret that her parents have kept hidden from her. A work of cool lyricism and calm dread, the film's stark beauty is perfectly complimented by newcomer Sonia Suhl's fragile central performance, giving it a much-needed heart. And one hell of a bite.
Michael Blyth