The War Show
Charting Syria's spiralling from peaceful uprisings to armed conflict, through the intimate prism of a group of friends.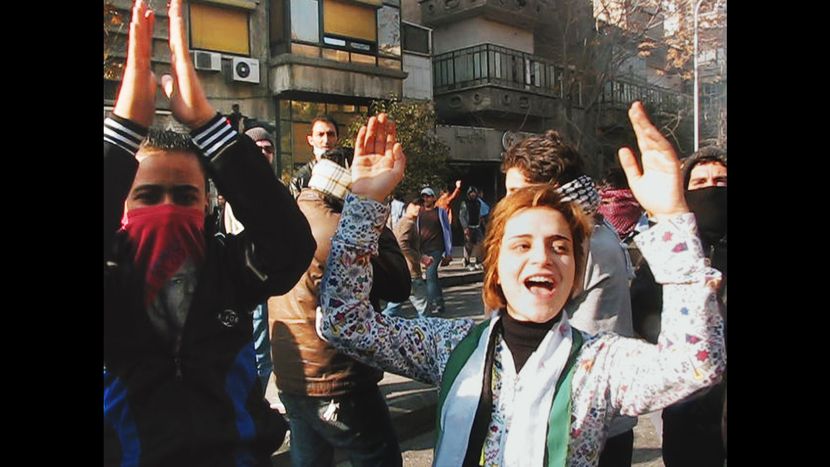 Dir-Scr Andreas Dalsgaard, Obaidah Zytoon
Prod Miriam Nørgaard, Alaa Hassan
Denmark-Finland-Syria 2016
100min
Sales DR Sales
These members of the filmmaking team are expected to attend the festival:
Miriam Nørgaard, Producer
See the full list of visiting festival guests. Please note that we can't guarantee guest attendance at any particular screening.
When peaceful protests against the Assad regime began across Syria in 2011, Obaidah Zytoon was a radio DJ in Damascus. With growing numbers on the streets, she begins to film her friends – Amal, Houssam, Lulu, Hisham, Rabea, Argha – as they journey around the country trying to make sense of the situation, from the capital to Madaya and Obaidah's hometown of Al-Zabadani. Through the prism of their personal stories, we see the country spiral into armed conflict – from chanting on the streets to the Syrian government's brutal backlash of death and destruction on a level almost impossible to fathom, and the inevitable development of local armed groups trying to protect their neighbourhoods. Obaidah's camera is a fearless and unique witness. Bold opener of this year's Venice Days, this is a devastating film and essential viewing.
Elhum Shakerifar
The screening on Thu 13 Oct 18:00 at Vue7 will also feature:
+ What They Took With Them
An emotionally and politically charged visual poem, delivered by UNHCR Goodwill Ambassador Cate Blanchett and fellow actors to highlight the plight of refugees forced to flee their homes. 5min
#WithRefugees
Image gallery