Opening Night Gala
A United Kingdom
Amma Asante (Belle, A Way of Life) opens the Festival with this impassioned drama depicting an interracial romance that changed the world.
Read Sight & Sound's review of the film, by Simran Hans.
Please note the 19:45 5 October screening in Vue 7 is a parallel screening.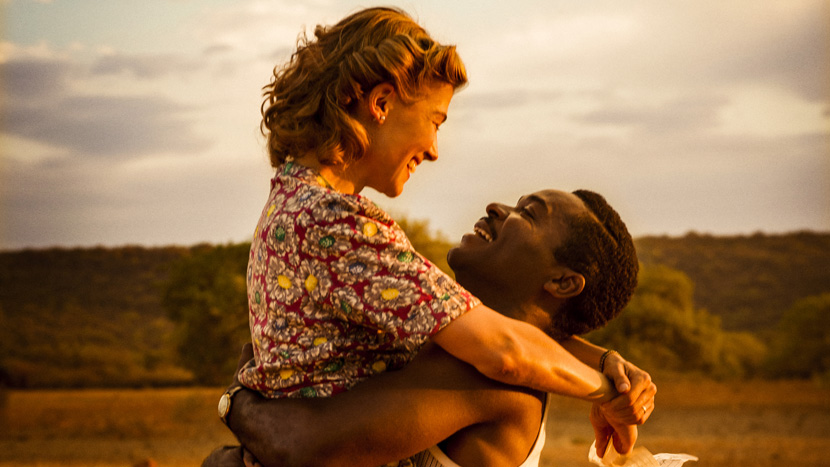 Dir Amma Asante
Prod Rick McCallum, David Oyelowo, Justin Moore-Lewy, Brunson Green, Charlie Mason, Peter Heslop
Scr Guy Hibbert
With David Oyelowo, Rosamund Pike, Jack Davenport, Terry Pheto, Tom Felton, Laura Carmichael, Arnold Oceng
UK 110min
UK Distribution Pathé UK
These members of the filmmaking team are expected to attend the festival:
Amma Asante, Director; Laura Carmichael, Cast; Jack Davenport, Cast; James Northcote, Cast; David Oyelowo, Cast / Producer; Rosamund Pike, Cast
See the full list of visiting festival guests. Please note that we can't guarantee guest attendance at any particular screening.
A United Kingdom is a powerful testament to the defiant and enduring love story of Seretse Khama, King of Bechuanaland (modern Botswana) and Ruth Williams, the London office worker he married in 1948 in the face of fierce opposition from their families and the government of the time. Director Amma Asante follows her previous film Belle with another elegant, impassioned drama that also reveals a painful episode in the history of British race relations and imperial politics. At a London dance, there is an immediate spark of attraction when the erudite and dashing Seretse (David Oyelowo) meets the independent-minded Ruth (Rosamund Pike). Ignoring the opposition of friends and family, they plunge into a whirlwind romance that leads rapidly to marriage. Reality sets in when, having completed his studies, Seretse has to return to Africa to assume his duties as King. Their interracial union is seen as a slap in the face both to Malan's apartheid-riven South Africa and to the royal traditions of Seretse's own people. As the international diplomatic crisis escalates, the British Government sets out to do everything in its power to drive the couple apart.
Anchored by commanding performances from Oyelowo and Pike, Asante's filmmaking relishes the contrasts between the cool, subdued tones of London and the colour-saturated heat of Botswana, employing cinematography and design to heighten the emotional register of Guy Hibbert's (Eye in the Sky) acutely observant screenplay. We are proud to be opening the 60th BFI London Film Festival with a film of great contemporary relevance, one that celebrates the triumph of love and intelligence over intolerance and oppression, and which confirms Asante as one of the UK's most distinctive and important filmmakers.
Clare Stewart
Opening Night Around the UK
Audiences around the UK will have the exclusive chance to see Opening Night red carpet footage and interviews with the film's creators, beamed by satellite into their local cinema and followed by a special preview screening of A United Kingdom.
Tickets will be available via Show Film First from 10am Thursday 29 September on a first come first served basis, and subject to availability.
  Locations:  
Cineworld Aberdeen Union Square
Cineworld Ashford
Cineworld Birmingham NEC
Cineworld Boldon Tyne & Wear
Cineworld Bolton
Cineworld Broughton
Cineworld Bradford
Cineworld Braintree
Cineworld Brighton
Cineworld Bristol
Cineworld Cardiff Cineworld
Cineworld Cheltenham
Cineworld Chichester
Cineworld Crawley
Cineworld Edinburgh
Cineworld Glasgow Silverburn
Cineworld High Wycombe
Cineworld Ipswich
Cineworld Manchester Didsbury
Cineworld Middlesbrough
Cineworld Milton Keynes
Cineworld Northampton
Cineworld Nottingham
Cineworld Rochester
Cineworld Sheffield
Cineworld Stevenage
Cineworld Swindon Shaw Ridge
Cineworld Weymouth
Image gallery