Family Gala in partnership with Sky Cinema
Trolls
The happiest creatures in the world find themselves coming under threat when miserable giants want a bit of joy for themselves in this animated treat.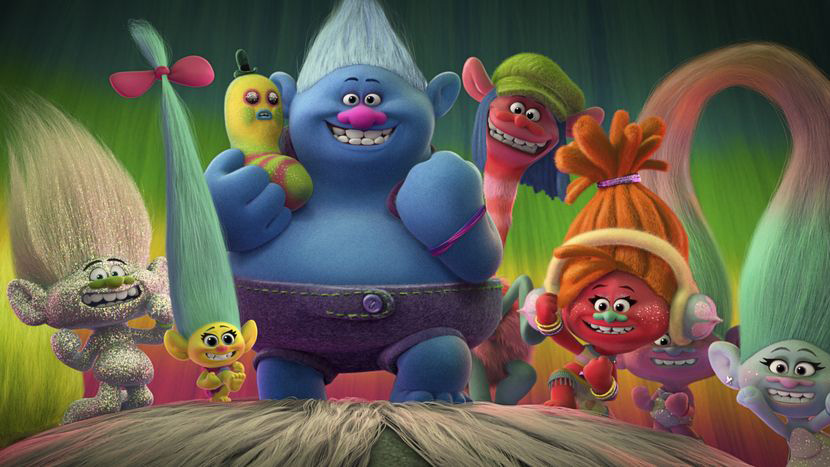 Dir Mike Mitchell. Co-Dir Walt Dohrn
Prod Gina Shay
Scr Jonathan Aibel, Glenn Berger
With the voices of Anna Kendrick, Justin Timberlake, Zooey Deschanel, James Corden, Russell Brand
USA 2016
90min
UK Distribution Twentieth Century Fox
These members of the filmmaking team are expected to attend the festival:
Walt Dohrn, Director; Mike Mitchell, Director; Gina Shay, Producer
See the full list of visiting festival guests. Please note that we can't guarantee guest attendance at any particular screening.
Anna Kendrick and Justin Timberlake lead an accomplished voice ensemble in this vivid, joyously choreographed musical animation from the ever-inventive team at DreamWorks. The tiny Trolls are to happiness what their giant neighbours the Bergens are to misery; they are the happiest creatures ever and love to laugh, sing and party. Except for Branch, who remembers that 20 years ago the Bergens celebrated Trollstice believing the taste of a troll would bring them everlasting joy. Despite Branch's extensive preparations for survival in the event of a Bergen attack, the other Trolls are carefree and mock him for his caution and reluctance to embrace their way of life. One night, after an especially loud celebration, Branch's worst fears are realised when a Bergen finds them and captures a number of Trolls. Princess Poppy must convince Branch that if the Troll race is to survive, he must join her on a dangerous rescue mission to the Bergen town, armed only with their magical hair and a handful of songs. The film's vibrant look is amplified by its anthem 'True Colours', a song that emphasises the central themes of tolerance and acceptance, and just one of many terrific musical choices in this thoroughly entertaining film for all ages.
Justin Johnson
Find out about related event Trolls: Behind the Scenes with special guests from Dreamworks Animation
Image gallery