Laugh Gala in association with Sight & Sound
Toni Erdmann
A lonely prankster father visits his estranged, high-powered consultant daughter, creating a fictional alias to embarrassingly insinuate himself into her stressed corporate life.
Read Sight & Sound's review of the film, by Jonathan Romney.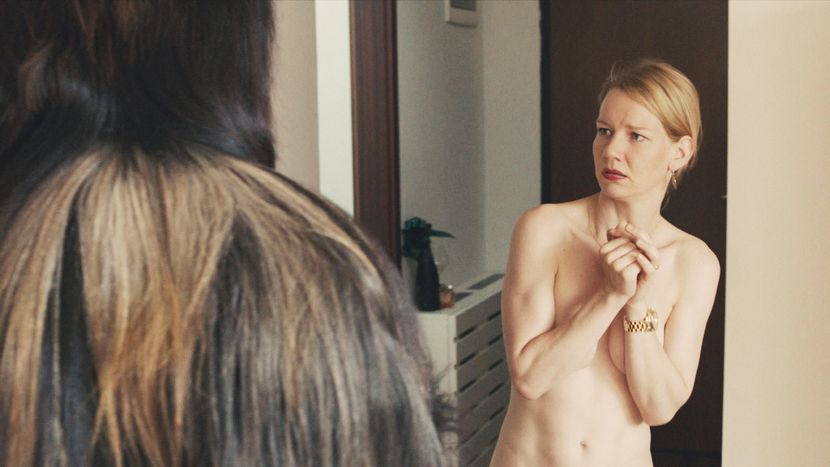 Dir-Scr Maren Ade
Prod Janine Jackowski, Jonas Dornbach, Maren Ade, Michel Merkt
With Sandra Hüller, Peter Simonischek
Germany-Austria 2016
162min
UK Distribution Soda Pictures
These members of the filmmaking team are expected to attend the festival:
Maren Ade, Director; Sandra Hüller, Lead Cast; Janine Jackowski, Producer; Trystan Pütter, Lead Cast
See the full list of visiting festival guests. Please note that we can't guarantee guest attendance at any particular screening.
When Winfried's career-driven, expat daughter Ines pays a flying visit from Romania, the pair's awkward reunion is incessantly and – from her perspective – gratefully interrupted by work-related calls. Shortly after, Winfried travels to see Ines in Bucharest. The trip doesn't go well and Winfried decides that his daughter's life needs a few changes. Or rather, his bewigged, snaggle-toothed alter ego 'Toni Erdmann' does. Toni turns up at the worst moments, ambushing and pranking an already stressed Ines at work meetings and social engagements, to ends neither of them could possibly predict. Cannes 2016's unanimous breakout hit (causing hardened critics to break out in spontaneous applause, twice), writer-director Maren Ade's near-three-hour tragi-comedy is as continually surprising, hilarious, exasperating and bizarrely touching as its shambling, mischievous, titular shapeshifter. This belated follow-up to her superb 2009 Berlinale award-winner Everyone Else settles into its own loose-limbed pace and loping rhythms. Consequently, Ade mines so much more than a straightforward domestic drama. By using comedy to probe the disconnect between estranged family members, she explores the demands of the modern corporate environment where everything, even personal ties, are subject to market forces. And as Winfried and Ines, Austrian stage veteran Peter Simonischek and Sandra Hüller (Requiem) give two of the year's standout performances, in one of its very best films.
Leigh Singer
Image gallery