Timbuktu
A town is invaded by radical Islamists who install an extreme form of Sharia Law, only to find the local populace finding their own ways of dealing with it.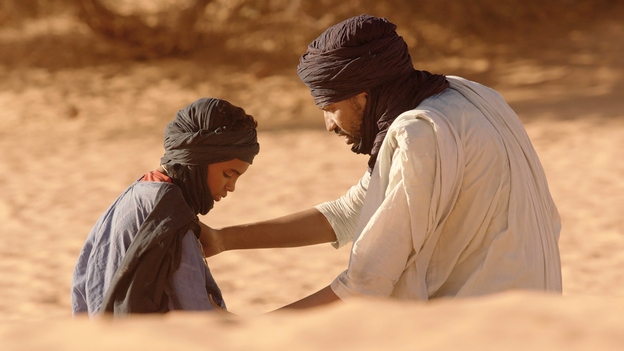 Open image gallery
Director Abderrahmane Sissako
Producer Sylvie Pialat
Screenwriters Abderrahmane Sissako, Kessen Tall
With Ibrahim Ahmed, Toulou Kik, Abel Jafri, Fatoumata Diawara
France-Mauritania

2014

97 mins
UK distribution Artificial Eye
Abderrahmane Sissako brings his lucid brilliance and unparalleled artistry to an account of the temporary occupation of northern Timbuktu by militant Islamic Jihadists in 2012. Shot in Mauritania and Mali, Timbuktu opens with a gang of Islamic extremists arriving in a town on motorbikes, toting AK47 rifles and announcing that they are imposing radical Sharia law. Such everyday activities as singing and playing football are now prohibited. We see the impact of the restrictions on a number of characters. A cattle farmer, incensed by the fishermen who kill one of his cows when it becomes trapped in their nets metes out his own justice only to find himself in court. A football team, dispirited that they can no longer play their favourite game, find a way around the new rules by practising with an imaginary ball. Most moving of all is the plight of Fatou (Fatoumata Diawara), who wails her forbidden songs as she is publicly flogged. Like his magisterial Bamako (2006), Sissako's new film balances the personal and political to stunning effect. By turns petrifying and funny, and beautifully shot by Sofiane El Fani (Blue Is the Warmest Colour), this is an important and soulful cinematic experience.
Keith Shiri
The screening on Friday 10 October will be BSL interpreted.