Tickling Giants
Documentary on Egyptian surgeon-turned-comedian Bassem Youssef, whose hit TV satire show took on successive oppressive regimes at great personal risk during the turbulent Arab Spring.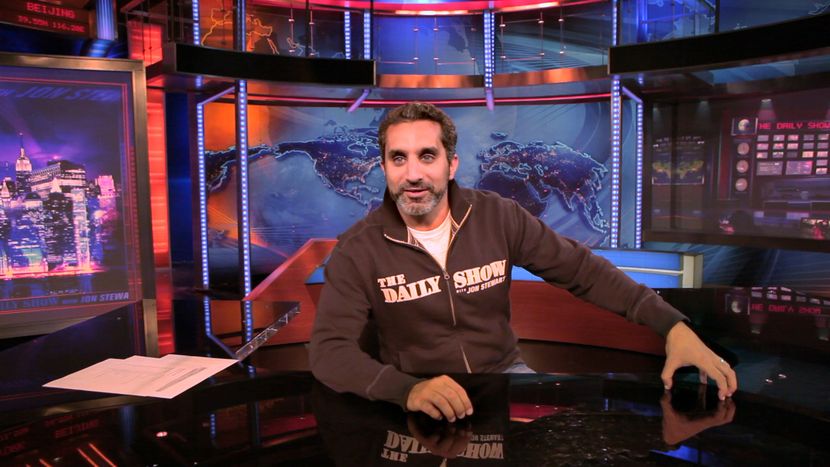 Dir-Scr Sara Taksler
Prod Sara Taksler, Frederic Rose, Maziar Bahari, Monica Hampton
With Bassem Youssef, Jon Stewart
USA-Egypt-UK 2016
111min
Sales ro*co
Did you hear the one about the Cairo cardiologist who quits surgery and – via a YouTube comedy show shot in his laundry room – becomes 'the Egyptian Jon Stewart'? Fronting the hugely popular TV satire Al Bernameg (The Show) amid the country's turbulent Arab Spring-led political upheavals, Bassem Youssef ultimately falls foul of government crackdowns. His programme is cancelled and he is forced to flee the country with his family. Tickling Giants is the story of Youssef's incredible late-career shift. It's a fascinating, fearless and often very funny documentary by Sara Taksler, herself a Senior Producer on Al Bernameg's US inspiration, The Daily Show (Youssef and Stewart's reciprocal guest appearances are highlights here); and, by detailing the determination of Youssef and his courageous team in standing up to successive totalitarian regimes, reminds us just how potent and dangerous comedy really can be.
Leigh Singer
Image gallery