Those Who Jump
Les Sauteurs
"I exist because I film" - the compelling first-hand account of an African migrant enduring great hardship to reach Europe and make a better life.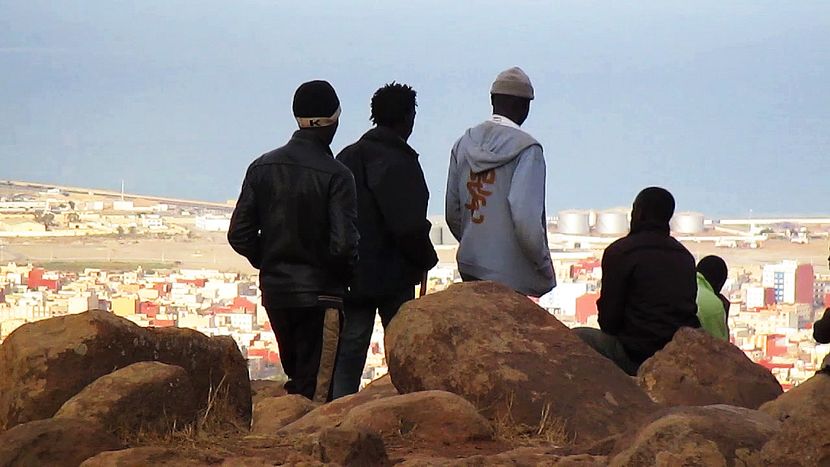 Dir-Scr Moritz Siebert, Estephan Wagner. Co-Dir Abou Bakar Sidibé
Prod Signe Byrge Sørensen, Heidi Elise Christensen
Denmark 2016
80min
Sales Wide House
These members of the filmmaking team are expected to attend the festival:
Moritz Siebert, Director; Estephan Wagner, Director
See the full list of visiting festival guests. Please note that we can't guarantee guest attendance at any particular screening.
Malian refugee Abou Bakar Sidibé is camped out with fellow migrants on the top of Mount Gurugu, which overlooks Melilla, the tiny Spanish enclave on northern Africa's Mediterranean coast. Given a camera by the film's directors Moritz Siebert and Estephan Wagner, Sidibé documents the daily life of the refugees – the long periods of tedium punctuated by frequent fruitless attempts to jump the fences that separate the land border between Morocco and Spain. But much more is revealed by his filming, not only the hardships but the camaraderie between the migrants – their hopes, aspirations and humour. Contrasting with Sidibé's intimate footage are the abstract, anonymous thermal images of surveillance cameras tracking the jumpers on their night-time quests to reach the El Dorado of their dreams. Depicting the plight of African refugees from a bold new perspective, Those Who Jump is a testament to their courage and an indictment of the world's neglect.
Christine Bardsley
The screening on Thu 13 Oct 18:00 at NFT2 will also feature:
+ What They Took With Them
An emotionally and politically charged visual poem, delivered by UNHCR Goodwill Ambassador Cate Blanchett and fellow actors to highlight the plight of refugees forced to flee their homes. 5min
#WithRefugees
Image gallery