This Is Colour
Archive Colour Shorts Programme
Eclectic and enchanting colour shorts from archives worldwide: the rare, the restored and the merely ravishing.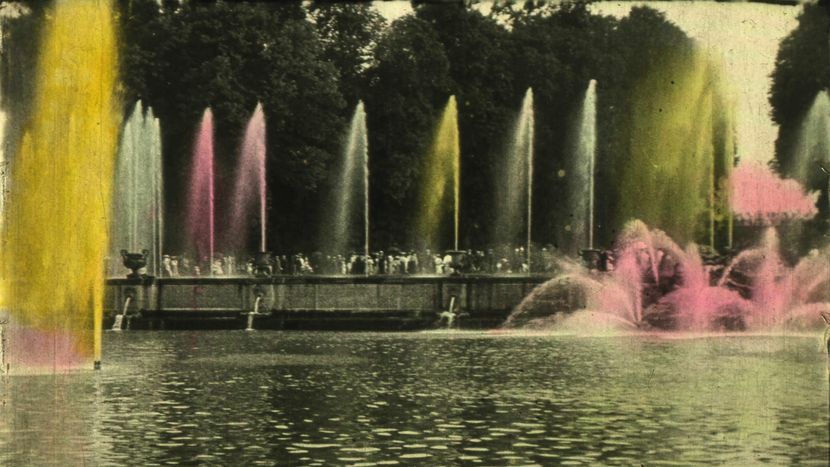 With live music accompaniment by Cyrus Gabrysch
Luxuriate in this programme of archive colour shorts. It's an eclectic selection that includes vibrant early films, sumptuously scenic travelogues, inventive advertising and abstract experiments: all they have in common is their striking, sometimes dazzling use of colour. Silent films from several archives portray an enchanting world: from Crystal Palace fireworks to the fountains of Versailles, Holland to the South Pacific. From the sound era, our selection includes the premiere of BFI restorations of two shorts photographed by Technicolor legend Jack Cardiff: This Is Colour (1942), a captivating study of the colour spectrum, and Ruins of Palmyra and Baalbek (1938), topical in light of recent events in Syria. And we have two hypnotic abstract films: Jordan Belson's Samadhi (1967) and Jules Engel's Landscape (1971).
Patrick Russsell
The full list of films in this programme is:
Samadhi (1967)
Landscape (1971)
The Love Charm (1928)
Dutch Types (1915)
Les grandes eaux de Versailles (1904)
Le farfalle (1907)
Grand Display of Brock's Fireworks At the Crystal Palace (1904)
Pink Guards on Parade (1934)
Ruins of Palmyra and Baalbek (1938)
Divertimento (1968)
Berlin Horse (1970)
This Is Colour (1942)
Fording the River (1910)
Films for this programme provided by Il Cineteca Bologna, EYE (Netherlands), Lobster Films, George Eastman House, Center for Visual Music and BFI National Archive.
Digital mastering of Ruins of Palmyra and Baalbek (1938) supported by The Eric Anker-Petersen Charity.