Centrepiece Gala Supported by the
Mayor of London
Testament of Youth
Vera Brittain's extraordinary life during WWI is explored in this magnificent period drama.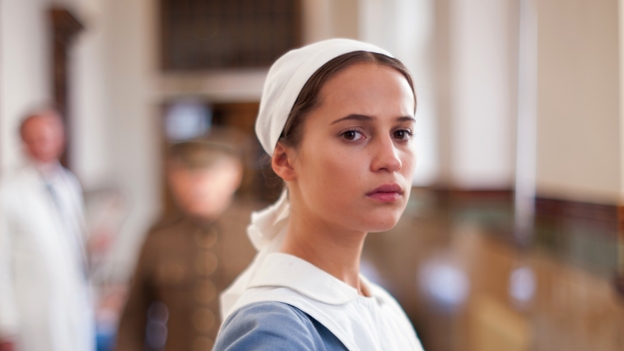 Open image gallery
Director James Kent
Producers David Heyman, Rosie Alison
Screenwriter Juliette Towhidi
With Alicia Vikander, Kit Harington, Taron Egerton, Colin Morgan, Dominic West, Emily Watson, Hayley Atwell, Anna Chancellor
UK

2014

130 mins
UK distribution Lionsgate UK
Vera Brittain's beloved WWI memoir Testament of Youth is exquisitely realised in this moving and timely adaptation. Intelligent and free-spirited Vera overcomes the narrow-mindedness of her conservative parents, winning a scholarship to Oxford. Entranced by her brother's dashing friend Roland, who shares her literary aspirations, she plunges into an intoxicating romance. Blooming, in love and on the cusp of fulfilling her ambitions, Vera's dreams are brutally shattered by the onset of war. When Roland and her brother ship out to the front, she abandons the cloistered environs of university life and volunteers as a nurse. Immediately confronted with the pitiless reality of the war's victims, her life is irrevocably changed as she loses, one-by-one, the young men she held so dear. Director James Kent makes an assured transition from television drama to feature film, effortlessly rendering the dramatic shift from the first flush of lyricism in the idyllic English countryside, to the stark verisimilitude of the battleground. Mingling innocent charm with dogged persistence, Alicia Vikander (A Royal Affair and LFF entry Son of a Gun) is marvellous as the sharply perceptive Vera. Shining brightly, and lingering long in the mind afterwards, are the performances of three rising British stars – Kit Harington, Taron Egerton and Colin Morgan – who do collective justice to the memory of the ordinary heroes they portray.
Clare Stewart