The Tales of Hoffmann
Revealed afresh in this remarkable Technicolor restoration, Powell and Pressburger's 1951 musical phantasmagoria is the stuff of beautiful nightmares.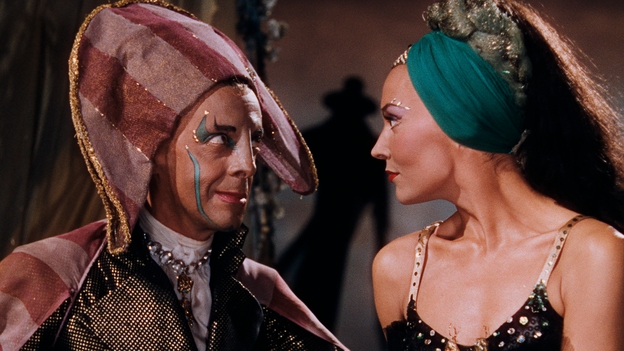 Open image gallery
Directors Michael Powell, Emeric Pressburger
Producers Michael Powell, Emeric Pressburger
Screenwriters Michael Powell, Emeric Pressburger
With Moira Shearer, Robert Rounseville, Ludmilla Tchérina
UK

1951

138 mins
UK distribution STUDIOCANAL
Prepare to be astonished by the audacity and inventiveness of Powell and Pressburger's dazzling take on Jacques Offenbach's 1881 opera. Drawing on some of the greatest film, music and dance talents of the period, they transform it into a musical phantasmagoria. This revelatory 4K restoration (containing previously unseen footage) from the original 3-strip Technicolor negative unleashes feverish colours straight from the candy box: a cacophony of clashing yellows and purples as disturbing as they are enchanting. Out of this decadent world of surreal, sensual delights Ludmilla Tchérina seduces us as a 19th-century dominatrix ; a menacing chorus of pan-sexual mannequins appear to have raided the dressing-up box of Marc Bolan and, most unsettling of all, there's the image of Moira Shearer's dismembered head as it blinks back at us.
Robin Baker
Restored by The Film Foundation and the BFI National Archive in association with STUDIOCANAL. Restoration funding provided by the Hollywood Foreign Press Association, the Franco-American Cultural Fund, a unique partnership between the Directors Guild of America (DGA); the Motion Picture Association of America (MPAA); the Société des Auteurs, Compositeurs et Editeurs de Musique (SACEM); and the Writers Guild of America West (WGAW), The Film Foundation, and the Louis B. Mayer Foundation.