Dustin Hoffman, Robert Pattinson and Ruth Wilson among filmmaking talent newly confirmed to attend 61st LFF 
A new Screen Talk is also confirmed with director Guillermo del Toro (The Shape of Water).
26 September 2017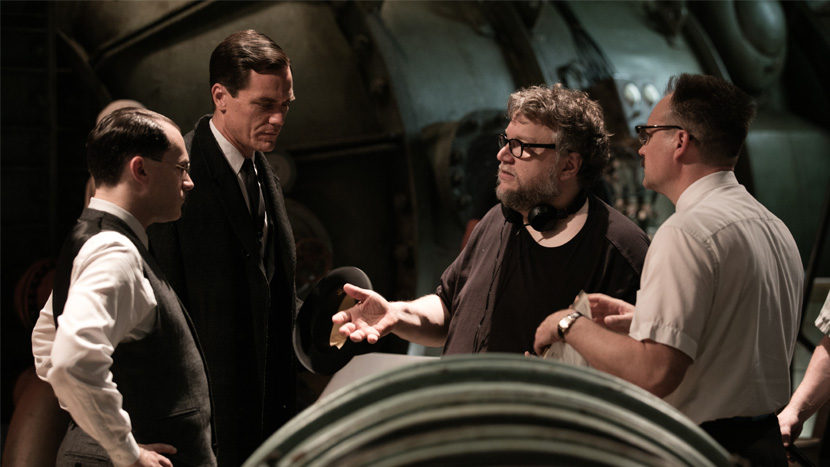 The 61st BFI London Film Festival in partnership with American Express® today announce more filmmakers and stars attending this years' Festival.
Updated and confirmed line-ups are (all cast listed alphabetically):
HEADLINE GALAS
BREATHE: Andy Serkis, Claire Foy, Andrew Garfield; THREE BILLBOARDS OUTSIDE EBBING, MISSOURI: Martin McDonagh, Peter Dinklage, Woody Harrelson, Frances McDormand, Sam Rockwell; BATTLE OF THE SEXES: Valerie Faris, Jonathan Dayton, Billie Jean King, Andrea Riseborough, Emma Stone; CALL ME BY YOUR NAME: Luca Guadagnino, Timothée Chalamet, Armie Hammer; DOWNSIZING: Hong Chau, Christoph Waltz; FILM STARS DON'T DIE IN LIVERPOOL: Paul McGuigan, Jamie Bell, Annette Bening, Julie Walters; JOURNEY'S END: Saul Dibb, Sam Claflin, Stephen Graham, Toby Jones; THE KILLING OF A SACRED DEER: Yorgos Lanthimos, Colin Farrell, Barry Keoghan, Nicole Kidman; LAST FLAG FLYING: Richard Linklater, Bryan Cranston; MUDBOUND: Dee Rees, Mary J. Blige, Jason Clarke, Garrett Hedlund, Jason Mitchell, Carey Mulligan; THE SHAPE OF WATER: Guillermo del Toro, Richard Jenkins; YOU WERE NEVER REALLY HERE: Lynne Ramsay, Joaquin Phoenix.
STRAND GALAS
AMANT DOUBLE (Dare): François Ozon, Marine Vacth; THE BIG BAD FOX AND OTHER TALES (Family): Patrick Imbert; BLADE OF THE IMMORTAL (Thrill): Takashi Miike; THE FLORIDA PROJECT (Festival Gala): Sean Baker, Valeria Cotto, Brooklynn Kimberly Prince, Bria Vinaite; FOXTROT (Debate): Samuel Maoz; THE MEYEROWITZ STORIES (NEW AND SELECTED) (Laugh): Noah Baumbach, Dustin Hoffman, Adam Sandler, Emma Thompson; ON CHESIL BEACH (Love): Dominic Cooke, Billy Howle, Saoirse Ronan; REDOUBTABLE (Create): Michel Hazanavicius, Bérénice Bejo, Louis Garrel, Stacy Martin; THELMA (Cult): Joachim Trier; WONDERSTRUCK (Journey): Todd Haynes, Oakes Fegley, Jaden Michael.
SPECIAL PRESENTATIONS
DARK RIVER: Clio Barnard, Mark Stanley, Ruth Wilson; A FANTASTIC WOMAN: Daniela Vega; THE FINAL YEAR: Greg Barker, Ambassador Samantha Power; LOOKING FOR OUM KULTHUM: Shirin Neshat, Shoja Azari; MINDHUNTER: David Fincher, Jonathan Groff, Holt McCallany; THE PARTY: Sally Potter, Bruno Ganz, Cherry Jones, Cillian Murphy, Kristin Scott Thomas, Timothy Spall; ZAMA: Lucrecia Martel.
OFFICIAL COMPETITION
120 BPM (BEATS PER MINUTE): Robin Campillo; ANGELS WEAR WHITE: Vivian Qu, Shi Ke; BEYOND THE CLOUDS: Majid Majidi, Ishaan Khattar, Malavika Mohanan; THE BREADWINNER: Nora Twomey, Saara Chaudry; GOOD MANNERS: Marco Dutra, Juliana Rojas; THE GUARDIANS: Xavier Beauvois, Laura Smet; LEAN ON PETE: Andrew Haigh, Charlie Plummer; LOVELESS: Andrey Zvyagintsev; THE LOVERS: Azazel Jacobs; SWEET COUNTRY: Warwick Thornton; THOROUGHBREDS: Cory Finley, Olivia Cooke; WAJIB: Annemarie Jacir.
FIRST FEATURE COMPETITION
APOSTASY: Daniel Kokotajlo; AVA: Léa Mysius; BEAST: Michael Pearce; THE CAKEMAKER: Ofir Raul Graizer; CARGO: Gilles Coulier; I AM NOT A WITCH: Rungano Nyoni; JEUNE FEMME: Léonor Serraille, Laetitia Dosch; MOST BEAUTIFUL ISLAND: Ana Asensio, Caprice Benedetti, Natasha Romanova, Joshua Youngerman; SUMMER 1993: Carla Simón; WINTER BROTHERS: Hlynur Pálmason; THE WOUND: John Trengove, Nakhane Touré.
DOCUMENTARY COMPETITION
BEFORE SUMMER ENDS: Maryam Goormaghtigh; BOBBI JENE: Elvira Lind, Bobbi Jene Smith; CHAUKA, PLEASE TELL US THE TIME: Arash Kamali Sarvestani; THE DEAD NATION: Radu Jude; DISTANT CONSTELLATION: Shevaun Mizrahi; EX LIBRIS - THE NEW YORK PUBLIC LIBRARY: Frederick Wiseman; GRAY HOUSE: Matthew Booth, Austin Lynch; JANE: Brett Morgen; KINGDOM OF US: Lucy Cohen; MAKALA: Emmanuel Gras; THE PRINCE OF NOTHINGWOOD: Sonia Kronlund.
SHORT FILM COMPETITION
GODDESS: Karishma Dube; LAWS OF THE GAME: Aegina Brahim; THE RABBIT HUNT: Patrick Bresnan; REAL GODS REQUIRE BLOOD: Moin Hussain; ROBOT & SCARECROW: Kibwe Tavares; SCAFFOLD: Kazik Radwanski; WREN BOYS: Harry Lighton.
LOVE
ANA, MON AMOUR: Diana Cavallioti; ANCHOR AND HOPE: Carlos Marques-Marcet; THE BOY DOWNSTAIRS: Sophie Brooks; CLOSE-KNIT: Naoko Ogigami; GOING WEST: Henrik Martin Dahlsbakken; GOLDEN EXITS: Alex Ross Perry; HOW TO TALK TO GIRLS AT PARTIES: John Cameron Mitchell; JOURNEYMAN: Paddy Considine, Jodie Whittaker; A MOMENT IN THE REEDS: Mikko Makela, Janne Puustinen; RESURRECTING HASSAN: Carlo Guillermo Proto; ROLLER DREAMS: Kate Hickey, Sara Messenger, Terrell Ferguson; SATURDAY CHURCH: Damon Cardasis; STRONGER: Jake Gyllenhaal; THREE PEAKS: Jan Zabeil.
DEBATE
BIRDS ARE SINGING IN KIGALI: Joanna Kos-Krauze; THE CLIMB: Michael Woodward; THE FORGIVEN: Roland Joffé; ISLAND: Steven Eastwood; THE LIGHT OF THE MOON: Jessica M. Thompson; A MOTHER BRINGS HER SON TO BE SHOT: Sinead O'Shea; THE VENERABLE W.: Barbet Schroeder.
LAUGH
BAD LUCKY GOAT: Samir Oliveros; FUNNY COW: Adrian Shergold, Alun Armstrong, Corinne Bailey Rae, John Bishop, Lindsey Coulson, Richard Hawley, Jim Moir, Maxine Peake, Tony Pitts; INGRID GOES WEST: Matt Spicer, Aubrey Plaza; JABBERWOCKY: Terry Gilliam, Annette Badland, Michael Palin; KING OF PEKING: Sam Voutas; LOTS OF KIDS, A MONKEY AND A CASTLE: Gustavo Salmerón; PERSON TO PERSON: Dustin Guy Defa; QUALITY TIME: Daan Bakker; WORD OF GOD: Henrik Ruben Genz, Søren Malling.
DARE
ABRACADABRA: Pablo Berger; APRIL'S DAUGHTER: Michel Franco; BEACH RATS: Eliza Hittman; CASTING: Nicolas Wackerbarth; GIANT: Aitor Arregi, Jon Garaño; GRAIN: Semih Kaplanoğlu, Nike Maria Vassil; THE HUNGRY: Bornila Chatterjee; THE L-SHAPED ROOM: Leslie Caron; LIFE GUIDANCE: Ruth Mader; LITTLE CRUSADER: Václav Kadrnka, Karel Roden; MADEMOISELLE PARADIS: Barbara Albert; SICILIAN GHOST STORY: Fabio Grassadonia, Antonio Piazza; A SKIN SO SOFT: Denis Côté; SO HELP ME GOD: Yves Hinant, Jean Libon, Anne Gruwez; TIGER GIRL: Jakob Lass; WESTERN: Valeska Grisebach.
THRILL
1%: Stephen McCallum; 6 DAYS: Jamie Bell, Mark Strong; BAD GENIUS: Nattawut Poonpiriya; DARLING: Birgitte Stærmose, Danica Curcic, Astrid Grarup Elbo; GEMINI: Aaron Katz; GOOD TIME: Josh Safdie, Robert Pattinson; MOUNTAIN: Jennifer Peedom; A PRAYER BEFORE DAWN: Jean-Stéphane Sauvaire; RACER AND THE JAILBIRD: Michaël R. Roskam; SMALL TOWN CRIME: Eshom Nelms, Ian Nelms, Michelle Lang, Jeremy Ratchford; STRANGLED: Árpád Sopsits; WRATH OF SILENCE: Xin Yukun.
CULT
78/52: Alexandre O. Philippe; BRAWL IN CELL BLOCK 99: S. Craig Zahler; THE CURED: David Freyne; THE ENDLESS: Justin Benson, Aaron Moorhead; GHOST STORIES: Jeremy Dyson, Andy Nyman; HAGAZUSSA – A HEATHEN'S CURSE: Lukas Feigelfeld, Aleksandra Cwen; LET THE CORPSES TAN: Hélène Cattet, Bruno Forzani; MY FRIEND DAHMER: Marc Meyers; RIFT: Erlingur Thoroddsen.
JOURNEY
ABU: Arshad Khan; ARABY: Affonso Uchôa; CHATEAU: Modi Barry, Cédric Ido, Jacky Ido; THE DRUMMER AND THE KEEPER: Nick Kelly, Niamh Algar, Dermot Murphy; EQUILIBRIUM: Vincenzo Marra; THE JOURNEY: Mohamed Al-Daradji, Ameer Ali Jabarah; LEBANON FACTORY: Lucie La Chimia; LUCKY: John Carroll Lynch; MY GENERATION: David Batty, Michael Caine; PICKUPS: Jamie Thraves, Aidan Gillen; POP AYE: Kirsten Tan; A SEASON IN FRANCE: Sandrine Bonnaire; SHEIKH JACKSON: Amr Salama; TIDES: Tupaq Felber, Jon Foster, Robyn Isaac, Simon Meacock, Jamie Zubairi; UNTITLED: Monika Willi; WALLAY: Berni Goldblat; THE WHITE GIRL: Jenny Suen, Christopher Doyle.
CREATE
ALPHAGO: Greg Kohs, Fan Hui, Demis Hassabis, Dave Silver; ANTONIO LOPEZ 1970: SEX, FASHION & DISCO: James Crump; ARCADIA: Paul Wright, Adrian Utley, Will Gregory; THE BALLAD OF SHIRLEY COLLINS: Rob Curry, Tim Plester; DAVID STRATTON: A CINEMATIC LIFE: Sally Aitkin; FAITHFULL: Sandrine Bonnaire; FÉLICITÉ: Alain Gomis, Véro Tshanda Beya Mputu; FILMWORKER: Tony Zierra; G FUNK: Karam Gill; HERE TO BE HEARD: THE STORY OF THE SLITS: William Badgley, Palm Olive, Tessa Pollitt; LOVING VINCENT: Dorota Kobiela, Hugh Welchman, Douglas Booth, Aidan Turner; MANIFESTO: Julian Rosefeldt, Cate Blanchett; NICO, 1988: Susanna Nicchiarelli, Trine Dyrholm; PROFESSOR MARSTON & THE WONDER WOMEN: Angela Robinson; REINVENTING MARVIN: Anne Fontaine; SONG OF GRANITE: Pat Collins.
FAMILY
THE DAY MY FATHER BECOME A BUSH: Nicole van Kilsdonk; LIYANA: Aaron Kopp, Amanda Kopp; IVAN TSAREVITCH AND THE CHANGING PRINCESS: Michel Ocelot.
EXPERIMENTA
A BLEMISHED CODE: Anne-Marie Copestake, Esther Congreave; DEAD THE ENDS: Benedict Seymour, Rachel Baker; ERASE AND FORGET: Andrea Luka Zimmerman; FRANTZ FANON: BLACK SKIN WHITE MASK: Isaac Julien, Colin Salmon; LE FORT DES FOUS: Narimane Mari, Michel Haas; LEK AND THE DOGS: Andrew Kötting, Catherine Tchili, Louise Tchili, Xavier Tchili; LIFE IMITATION: Chen Zhou; THE MÆRSK OPERA: Superflex; NO TRACE OF ACCELERATOR: Kelley Forsyth, Stephen Fewell; SPELL REEL: Filipa César; TONSLER PARK: Kevin Jerome Everson; TRIPOLI CANCELLED: Naeem Mohaiemen, Vassilis Koukalani.
LFF CONNECTS
Julian Rosefeldt & Cate Blanchett; Nitin Sawhney; Ian McEwan; Johan Knattrup Jensen; David Fincher; Demis Hassabis.
SCREEN TALKS
Previously announced Screen Talks taking place over the course of the Festival include Annette Bening; Jake Gyllenhaal; Lucrecia Martel; Takashi Miike.
The newly confirmed Guillermo del Toro Screen Talk will take place on Wednesday 11 October at 14.45 in NFT 1 at BFI Southbank.
Screen Talk: Guillermo del Toro
After breaking onto the scene with visceral, dark supernatural horror films Cronos and The Devil's Backbone, Guillermo del Toro moved into commercial American moviemaking, directing Blade II and garnering acclaim for his two Hellboy movies. However, it was his darkly beautiful masterpiece Pan's Labyrinth that really cemented the filmmaker's reputation as one of the most creative and visionary artists of his generation, whose distinctive style introduced an exciting visual poetry to fantasy filmmaking. Following the giant robots vs giant monsters action outing Pacific Rim and gothic romance Crimson Peak, the Festival is delighted to welcome one of Mexico's most celebrated filmmakers to discuss his career and his latest film, THE SHAPE OF WATER, an otherworldly fairy tale, set against the backdrop of Cold War era America, which screens as our American Airlines Gala.
The 61st BFI London Film Festival in partnership with American Express® takes place from Wednesday 5 October-Sunday 15 October 2017.  Full programme information at www.bfi.org.uk/lff