Sunset Song
Terence Davies returns to the Festival with this glorious adaptation of Lewis Grassic Gibbon's 1932 novel.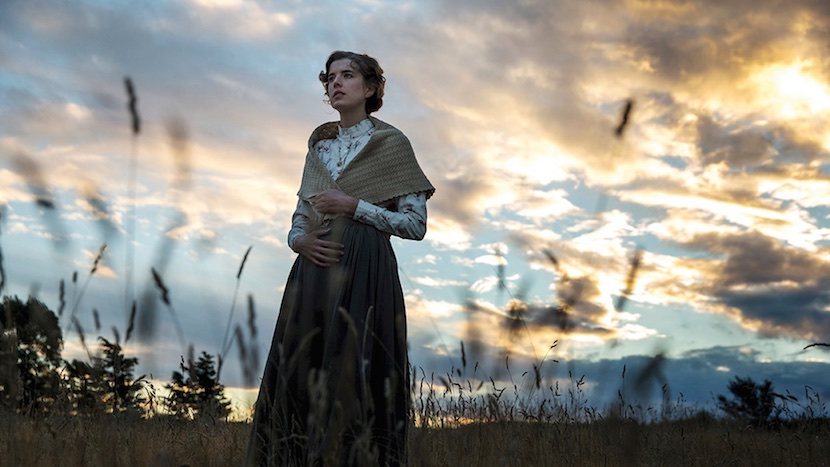 Director Terence Davies
Producers Roy Boulter, Sol Papadopoulos, Nicolas Steil, Bob Last
Screenwriter Terence Davies
With Agyness Deyn, Peter Mullan, Kevin Guthrie
UK-Luxembourg 2015
135 mins
UK distribution Metrodome Distribution Ltd
Last seen closing the LFF in 2011 with The Deep Blue Sea, Terence Davies returns to the Festival with this exquisite treatment of Lewis Grassic Gibbon's 1932 novel, which gives him a broad canvas of rain-lashed farmland on which to apply his knack for literary adaptation. It's the early 20th-century in rural Scotland and Chris Guthrie is a young woman with plans. Excelling at her schooling and in possession of a burgeoning independent streak, she seems destined for a job in teaching. But family life has its own pull and her religious father exerts a formidable force on his brood, as well as on her mother whose body he treats as both refuge and battleground. As the constellation of her family shifts around her and romance comes calling, Chris grows into womanhood just as the First World War begins to devastate a generation. Agyness Deyn builds upon her starring role in last year's Electricity with a spirited performance that expresses Chris' joys as a light from within, while Peter Mullan brings gnarly authenticity to the zealous patriarch. A true Scottish epic, Sunset Song laments the devastation of war and pays fine tribute to the endurance of the land.
Kate Taylor
Image gallery