The Strange Familiar
Dekala Purudu Kenek
A deftly told social drama about a Singhalese couple and their families, who struggle to come to terms with the emotional wreckage caused by an extra-marital affair.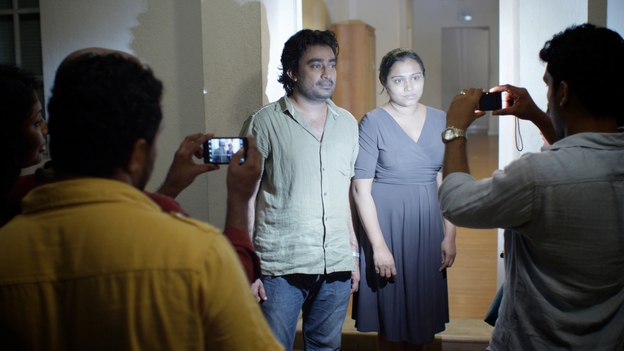 Open image gallery
Director Malith Hegoda
Producers Lal Hegoda, Malith Hegoda, Rasanga Dissanayake, Mohamed Adamaly, Nadira Adamaly
Screenwriter Boopathy Nalin Wickramage
With Samadhi Laksiri, Bimal Jayakody, Jagath Manuwarne
Sri Lanka

2014

119 mins
Production company Real Fiction Films
Malith Hegoda presents a brutally honest and gripping examination of the breakdown between an urban Singhalese couple, exploring the moral and emotional dilemma of betrayal within a marriage. Housewife Dinithi fusses over her architect husband Sachinthra as he leaves for the office. He cold shoulders her and secretly hides her mobile phone in a cupboard. Later that night, a huge chasm opens up between the two as Dinithi asks for her mobile. It transpires that Dinithi has had an affair and the more she begs for forgiveness the colder Sachinthra behaves. It is clear that for Sachinthra trust has been severely damaged and their relationship threatens to spin out of control. Samadhi Laksiri and Bimal Jayakody give compelling performances as the wounded couple in this emotionally controlled tale that has universal resonances.
Cary Rajinder Sawhney