Still the Water
Futatsume no mado
One of the years most visually ravishing films is this tale of two youths growing up and falling in love on a small island off the Japanese mainland.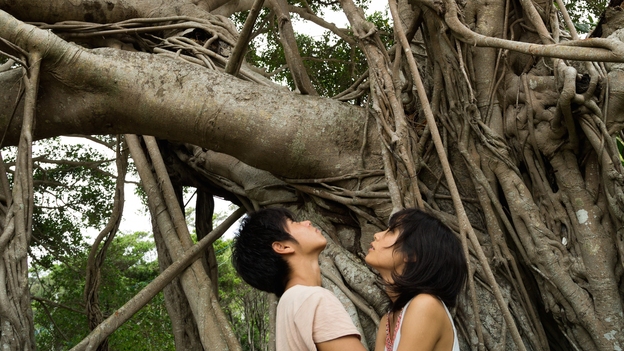 Open image gallery
Director Naomi Kawase
Producers Masa Sawada, Takehiko Aoki, Naomi Kawase
Screenwriter Naomi Kawase
With Nijiro Murakami, Jun Yoshinaga, Miyuki Matsuda
Japan-France-Spain

2014

116 mins
UK distribution Soda Pictures
A film of magnificent natural beauty, Naomi Kawase's Still the Water conjures words like majestic, mythical, eternal. Set on a tropical Japanese Island, home to families who have lived there for generations, teenage Kyoto is falling in love with Kaito, whom locals call 'Tokyo boy' (his father is a tattoo artist on the mainland, his mother a waitress). Kyoto's beloved mother, a shaman, lies dying in the shade of their 400-year-old banyan tree, surrounded by extended family. Despite Kyoto's grief, Kaito suffers more, cut off from history and meaning. Kawase's film is rich with metaphorical imagery: a boy struggles up a hill on his bike; a goat is slaughtered in unemotional close-up; a mainlander washes up on shore and no one knows his name. The film asks if there is a good way to both live and die. And quietly, Kawase answers – yes.
Tricia Tuttle