The Satellite Girl and Milk Cow
Woo-ri-byul il-ho-wa ul-ruk-so
A bizarre trio of heroes ward off evil in this enjoyable animated tale from Korea.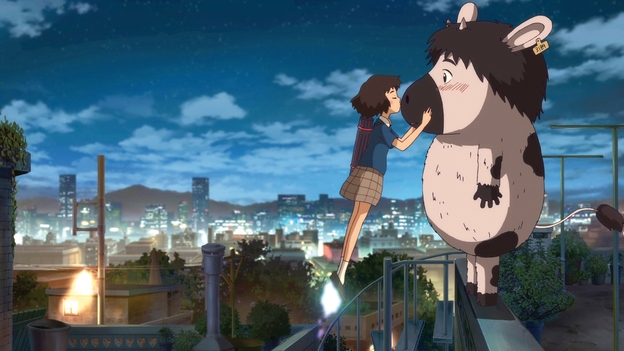 Open image gallery
Director Chang Hyung-Yun
Producer Cho Young-Kag
Screenwriter Chang Hyung-Yun
With voices of Yoo Ah-in, Jung Yu-mi
South Korea

2014

81 mins
Sales Indiestory Inc
Recommended for ages 8+
A satellite, having spent 20 years in space, free-falls through the sky and crash lands on earth, turning into a girl, complete with rocket shoes and weapon limbs. A music-playing milk cow reminisces about his past as a human being with a broken heart and musical aspirations. A wizard, eager to help the pair out but restricted since he was transformed into a roll of toilet paper (complete with embossed, magical sheets), is desperate to find a way to break their curses. This bizarre trio of unlikely heroes must face up to the ensuing menace of an incinerating machine and a witch with her pet 'snouts'. The Satellite Girl and Milk Cow is a kooky animated love story whose off-beat sense of humour, warm heart and sheer exuberance deserves to be seen by an appreciative London audience.
Justin Johnson