Robot Overlords
Sean and his friends take on the robot empire in this British sci-fi adventure.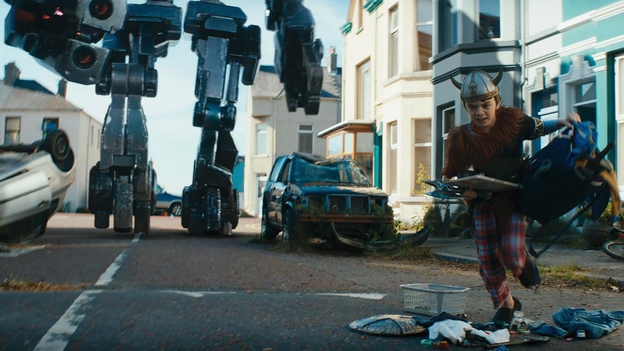 Open image gallery
Director Jon Wright
Producer Piers Tempest
Screenwriters Mark Stay, Jon Wright
With Gillian Anderson, Sir Ben Kingsley, Callan McAuliffe, Ella Hunt
UK

2014

88 mins
Sales Embankment Films
Recommended for ages 10+
It has been three years since the robot invasion of earth. Sean Flynn has never given up hope that his missing father might still be alive. All humans have been fitted with transmitters to ensure they obey the cardinal rule of the robot empire – that they stay indoors at all times or be incinerated. An accident at home leads to one of the transmitters short-circuiting, allowing Sean and his friends the opportunity to infiltrate their alien adversaries. They may even get a shot at freeing themselves once and for all, but it's not going to be easy. Jon Wright's smart sci-fi adventure embraces its British roots and provides enough action, humour and impressive effects to please everyone. There are a number of strong swear words to suggest that were this film certified it would be classified as 12A, so it's definitely geared towards older children and teens.
Justin Johnson