Rediscovered Laurel and Hardy – The Battle of the Century
A rediscovered classic accompanied by popular shorts.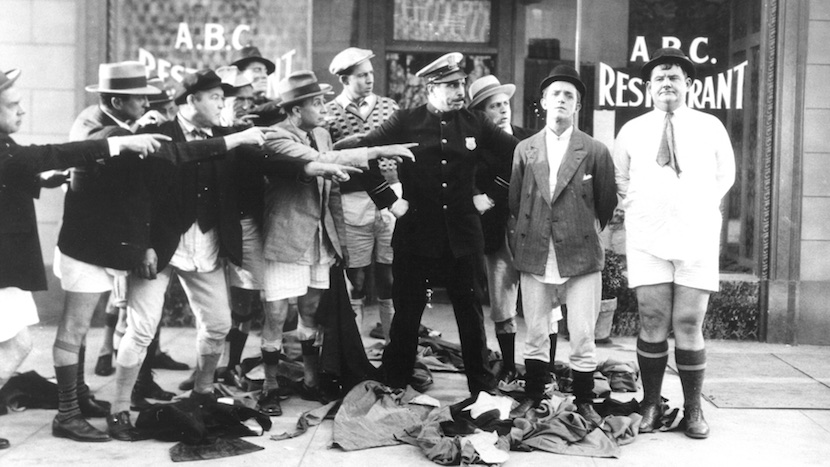 © CCA. laurel-and-hardy.com
Director Clyde Bruckman
Producer Hal Roach
With Stan Laurel, Oliver Hardy, Eugene Pallette, Anita Garvin
USA 1927
19 mins
Holy Grail? Here you go. The long, thought-to-be-lost Laurel and Hardy silent comedy, Battle of the Century has been rediscovered via the 'Mostly Lost' film Workshop at the Library of Congress Film department. It comes courtesy of a collector – an eagle-eyed film accompanist – and brought to you by restorer Serge Bromberg. The eponymous battle starts in the ring then turns into a battle royale of staggering scale... with pies! Only half of the film had been available to watch – including a section of the pie fight – until now. Screening with a selection of the best Laurel and Hardy silent shorts, this promises to be the screening of the year for fans of the boys.
Bryony Dixon
You're Darn Tootin'
Director Edgar Kennedy
USA 1928
20 mins
Double Whoopee
Director Lewis R Foster
USA 1929
20 mins
Big Business
Directors James W Horne, Leo McCarey
USA 1929
19 mins
Permission courtesy of CCA.
The performance on Thursday 8 October will feature a live music accompaniment by Costas Fotopoulos, and by Stephen Horne on Friday 16 October.