The President
A provocative and disquieting parable about a deposed president from the great Iranian director Mohsen Makhmalbaf.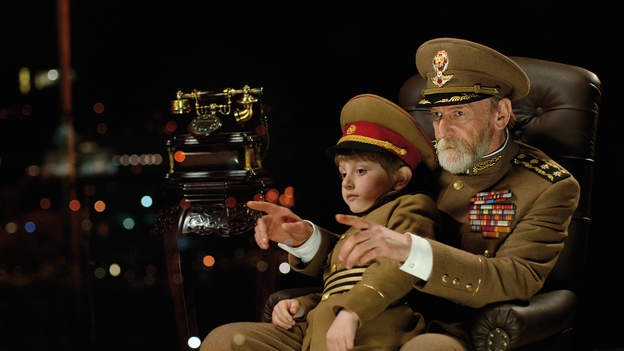 Open image gallery
Director Mohsen Makhmalbaf
Producers Maysam Makhmalbaf, Mike Downey, Sam Taylor, Vladimer Katcharava
Co-producers Mathieu Robinet, David Grumbach, Rudolph Herzog, Henning Bruemmer
Screenwriters Mohsen Makhmalbaf, Marziyeh Meshkiny
Editor Hana Makhmalbaf
With Misha Gomiashvili, Dachi Orvelashvili
Georgia-France-UK-Germany

2014

118 mins
Sales BAC Films Distribution
The president (Misha Gomiashvili) of an unnamed country interrupts signing execution warrants to spend time on a game with his grandson (Dachi Orvelashvili). To demonstrate his power, he orders the lights of the city turned on and off – and in plunging his people into darkness inadvertently sparks a rebellion. The opening scene of Mohsen Makhmalbaf's The President combines a spirit of childlike play with an atmosphere of political brutality, a disquieting tone masterfully maintained for the rest of this gripping, starkly inventive film. Forced to flee with his grandson through the country he once ruled, the president shields the young lad from danger with elaborate games of pretence. But the harsh consequences of his regime become obvious as they encounter his former subjects. An international co-production shot in Georgia, Iranian director Makhmalbaf's drama echoes real-life political events, from the Arab spring and beyond. But above all, this is a work of sorrowful humanity that strikes a lastingly resonant universal chord as a parable of power, dispossession and revenge.
Edward Lawrenson