The Pass
Two 'straight' footballers share a kiss in this powerful chamber piece which opened BFI Flare earlier this year.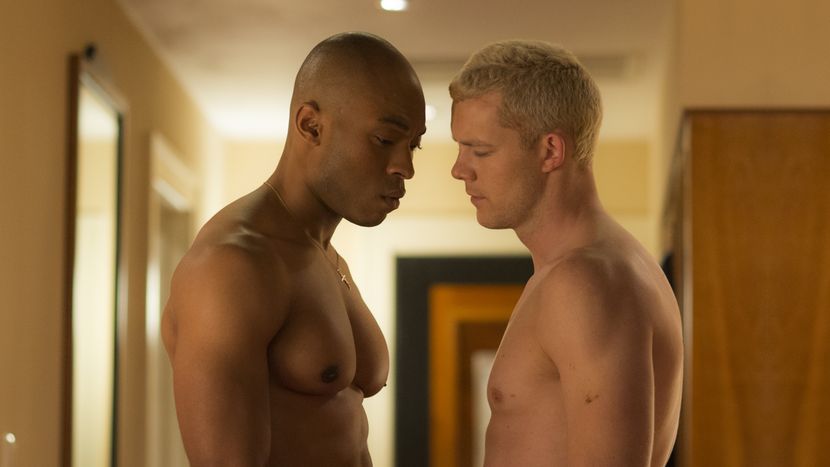 Dir Ben A Williams
Prod Duncan Kenworthy
Scr John Donnelly
With Russell Tovey, Arinze Kene, Lisa McGrillis, Nico Mirallegro
UK 2016
88min
UK Distribution Lionsgate
These members of the filmmaking team are expected to attend the festival:
John Donnelly, Screenwriter; Peter Francis, Production Designer; Kurban Kassam, Producer; Duncan Kenworthy, Producer; Lisa McGrillis, Lead Cast; Nico Mirallegro, Lead Cast; Charles Moore, Producer; Ben Williams, Director; Justine Wright, Editor
See the full list of visiting festival guests. Please note that we can't guarantee guest attendance at any particular screening.
In a Bulgarian hotel room, the night before an important match, two aspiring Premier League footballers anxiously await the 90 minutes that could define their future careers. As the teammates trade playful insults and chat about girls, fame and the beautiful game, a simmering tension permeates the air. With the atmosphere almost at breaking point, one of the men leans in to kiss the other, a move that profoundly impacts both of their lives. Intelligently adapted by John Donnelly from his own acclaimed play, director Ben A Williams brings a subtle sense of the cinematic to this intimate and urgent chamber piece (which opened BFI Flare this year), without losing any of the claustrophobic familiarity that made it such a sensation on the stage. Reprising his role from the original Royal Court production, Russell Tovey is a sensation as a young man battling internalised desires and self-hatred, ably matched by dynamic performances from the rest of the impressive cast.
Michael Blyth