Park
Athens' Olympic Park is now a wasteground, and the teenagers who hang out there engage in a dangerous new set of games.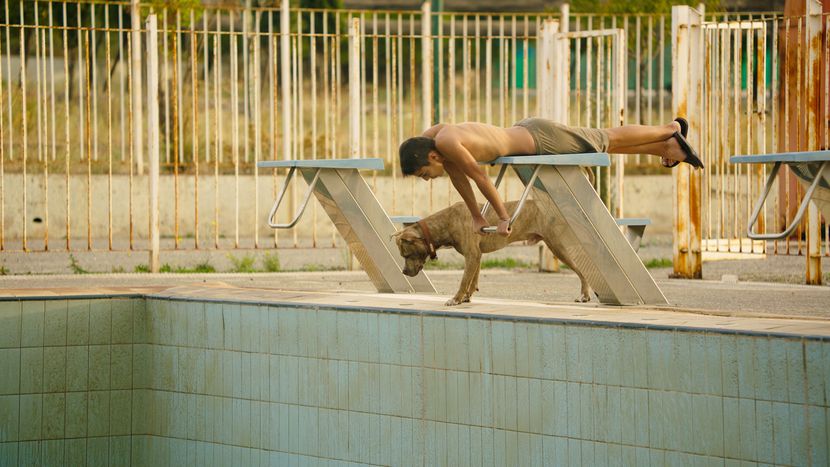 Dir Sofia Exarchou
Prod Amanda Livanou, Christos V. Konstantakopoulos
With Dimitris Kitsos, Dimitra Vlagkopoulou, Enuki Gvenatadze
Greece 2016
94min
Sales Stray Dogs
These members of the filmmaking team are expected to attend the festival:
Sofia Exarchou, Director; Christos V. Konstantakopoulos, Producer; Amanda Livanou, Producer; Livia Neroutsopoylou, Assistant Editor; Klaudia Smieja, Co-Producer; Eleana Tsakiri, Assistan Producer
See the full list of visiting festival guests. Please note that we can't guarantee guest attendance at any particular screening.
Park follows a ragtag of bored kids hanging out in Athens' now desolate Olympic Park. Where there was once grandeur and ideas that shaped democracy, these days kicks are hard to come by. With no hope and zero opportunities, it's a landscape ripe for lawless teenage aggression. 16-year-olds Dimitris and Anna are a couple trying to escape, through hedonism, sex and increasingly charged encounters with the oblivious tourists, the area's only viable source of income. Evoking a messed-up trinity of Gummo, The Tribe and Rihanna's We Found Love, this edgy drama is a powder keg of political prescience, with the teenagers playing increasingly dangerous games, their future sealed by the devastating economic crises. Debut director Sofia Exarchou exhibits bold stylistic nerve, sticking to a tactile physical register – all scars, scabs and bruises – to communicate a hellish and provocative vision. This is decaying Europe and the kids are not alright.
Kate Taylor