Parabellum
A chilling vision of a holiday resort offering survivalist training for the impending apocalypse.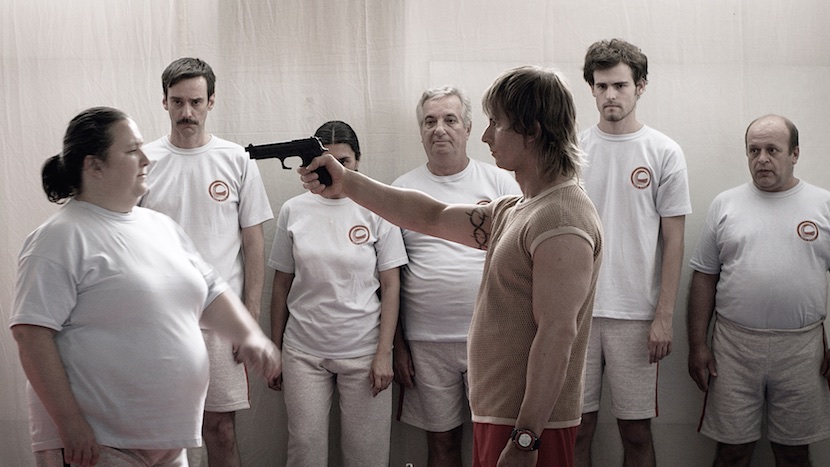 Director Lukas Valenta Rinner
Producers Lukas Valenta Rinner, Alex Piperno, Juan Pablo Martínez
Screenwriters Esteban Prado, Ana Godoy, Lukas Valenta Rinner
With Pablo Seijo, Eva Bianco, Martin Shanly
Argentina-Austria-Uruguay 2015
75 mins
Sales Patra Spanou Film Marketing & Consulting
A group of strangers travel from Buenos Aires to a new kind of holiday spa: an exclusive training ground for the impending apocalypse, where dips in the pool are interspersed with lessons in camouflage, edible plants and self-defence. In his feature debut, Austrian helmer Lukas Valenta Rinner creates a hermetically sealed atmosphere of creepy stillness and unrelenting dread. Little dialogue is spoken, but the radio reports tell of vague unrest (aliens? war? ecological disaster?). And trouble is definitely getting closer. Our ragtag band of trainees must make their way through the marshy Tigre Delta, balancing a pack mentality with their own isolationist tendencies, and dealing with the threats of nature and their own mental health. Chilling, vacuum-packed cinema, where the sound is as meticulously controlled as the glacial camera movements, Parabellum announces Rinner as a confident creator of cinematic worlds.
Kate Taylor
Image gallery