Our Man in Havana
Alec Guinness stars as a hapless vacuum cleaner salesman turned secret agent on the dangerous, lusty streets of old Havana.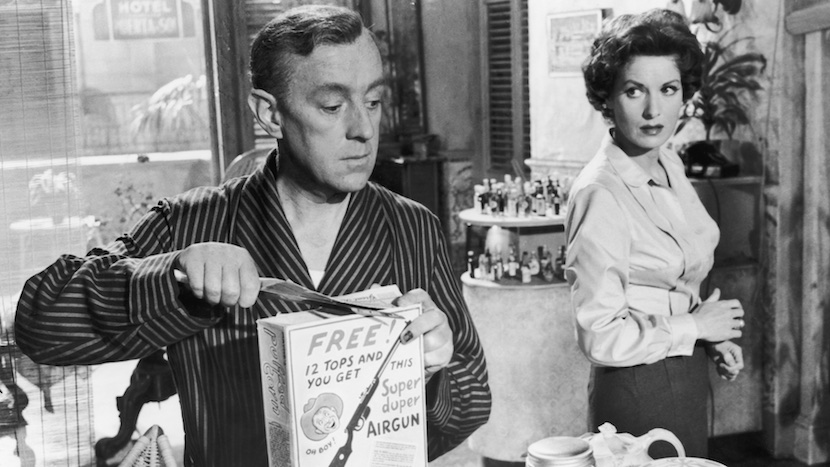 Director Carol Reed
Producer Carol Reed
Screenwriter Graham Greene
With Alec Guinness, Burl Ives, Maureen O'Hara, Ernie Kovacs, Noel Coward, Ralph Richardson
UK 1959
108 mins
UK distribution Park Circus Limited
A decade after Graham Greene and Carol Reed collaborated on The Third Man, they headed to Cuba to film Greene's self-styled 'entertainment', just months after Castro had overthrown Batista. Few films have captured the dangerous, lusty, high-octane magnificence of Havana so perfectly. As ever, Reed had a pitch-perfect ear for Greene's humour, which here inhabits a Cold War world where levity can quickly be extinguished by the horror of murder. Alec Guinness stars as Wormold, a hapless vacuum cleaner salesman turned secret agent – MI6's man in Havana. His recruitment by Noel Coward in a men's lavatory is hilarious, but the film's more complex vein is explored especially well in a star-turn by Burl Ives. The other star is the city itself and Oswald Morris's black and white CinemaScope work could not look any more spectacular.
Robin Baker
Restored by Sony Pictures in 4K from the Original Picture Negative. Digital Image restoration at MTI Film. Digital Audio restoration at Chace/Deluxe Audio. 4K Scanning at Cineric, Inc. Color Grading at Deluxe.
The Mon 12 18:15 NFT1 screening will be in 4K and the Thu 15 Oct 15:.30 NFT3 screening will be in 2K.
Image gallery