On the Road
Michael Winterbottom's tour film captures the excitement of north London band Wolf Alice's thrilling live shows, while revealing insights about backstage life.
Director Michael Winterbottom and the band, Wolf Alice are expected to attend the Festival.
The BFI cannot guarantee attendance at any particular screening.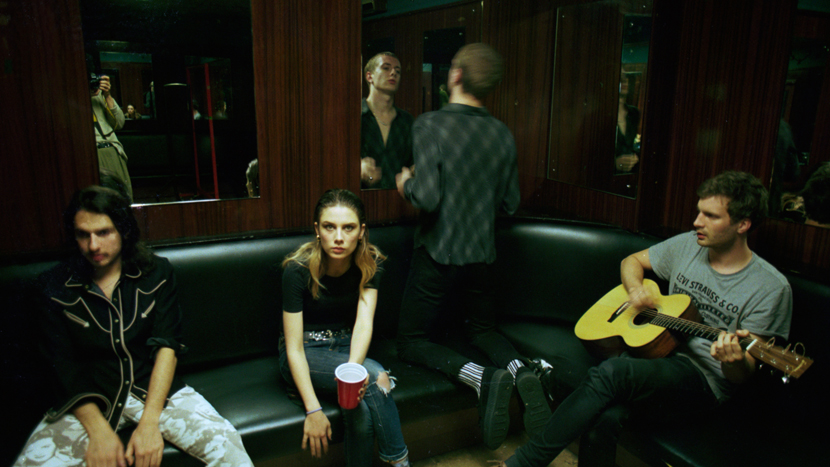 Dir Michael Winterbottom
Prod Melissa Parmenter, Anthony Wilcox
With Wolf Alice, James McArdle, Leah Harvey, Swim Deep, Bloody Knees
UK 2016
112min
Prod Co Revolution Films
UK Distribution Lorton Distribution
These members of the filmmaking team are expected to attend the festival:
Dan Coles, Post Production; Alex Gascoigne, Post Production; Melissa Parmenter, Producer; Anthony Wilcox, Producer; Michael Winterbottom, Director
See the full list of visiting festival guests. Please note that we can't guarantee guest attendance at any particular screening.
North London band, Wolf Alice (Ellie Rowsell, Joff Oddie, Joel Amey, Theo Ellis, who take their collective name from an Angela Carter story) have had a rise to prominence that might have been bends-inducing were it not for their tightness as a group. In Summer of 2015, the deliciously dark, hook-and-riff-filled sound of their first album, My Love is Cool inspired NME to crown it, "the debut of the decade". As a measure of their impact, BAFTA-winning filmmaker Michael Winterbottom (24 Hour Party People, The Trip) joined the band on the road, capturing sixteen different gigs and daily life backstage. Winterbottom's resulting tour film - which records the tour from the point of view of a new member of their crew - is a refreshingly unusual one with unexpected twists; it reveals the relentless, sometimes unglamorous graft of playing loud, hot, physical music, night after night. But the film also mesmerises, offering a structure that reveals more, at every stop on the road, of the nuanced musicality of the full band, and the bewitching talent and charisma of front woman, Ellie Rowsell.
Tricia Tuttle
Tickets: £12.75 (evening) - £9.00 concs £6.50 (matinee). Tickets on sale to BFI Champions Fri 9 Sep 10:00, BFI Members Fri 9 Sep 11:00, and to the public from Thu 15 Sep 10:00.