On Call
La Permanence
Filmed in a walk-in service for asylum seekers in an hospital near Paris, this timely documentary captures with great humanity dozens of personal stories.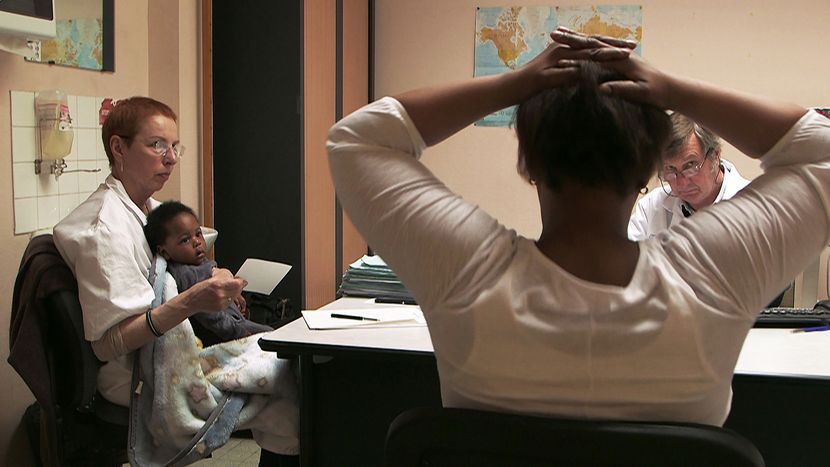 Dir-Scr Alice Diop
Prod Sophie Salbot
France 2016
97min
Prod Co Athénaïse
These members of the filmmaking team are expected to attend the festival:
Alice Diop, Director
See the full list of visiting festival guests. Please note that we can't guarantee guest attendance at any particular screening.
For this topical documentary, Alice Diop spent a year at the walk-in service for asylum seekers in Avicenne hospital, near Paris. Arriving in a state of physical and mental exhaustion, often traumatised by their exile and the limbo they're kept in while seeking asylum, a succession of men and women arrive to seek treatment, some medicine or solace from the outside world. Filmed in static shots in the claustraphobia of a hospital room, the film captures dozens of consultations, giving voice to each new arrival who tells their personal, often harrowing story. It immediately personalises each patient, taking them out of the chilling anonymity they experience daily. The film also highlights the restrictions the doctors face, working with few resources to alleviate the overwhelming misery they witness with each consultation. On Call is a film of profound humanity that underlines the limits of our societies.
Laure Bonville
The screening on Wed 12 Oct 18:30 at ICA will also feature:
+ What They Took With Them
An emotionally and politically charged visual poem, delivered by UNHCR Goodwill Ambassador Cate Blanchett and fellow actors to highlight the plight of refugees forced to flee their homes. 5min
#WithRefugees
Image gallery