Festival Gala In association with Time Out
Mr. Turner
Mike Leigh's Cannes-winning account of the later years of J. M. W. Turner, brilliantly played by Timothy Spall.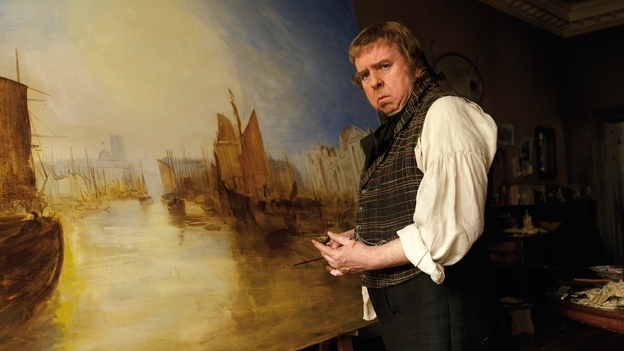 Open image gallery
Director Mike Leigh
Producer Georgina Lowe
Screenwriter Mike Leigh
With Timothy Spall, Dorothy Atkinson, Marion Bailey, Paul Jesson, Lesley Manville
UK

2014

149 mins
UK distribution Entertainment One UK
Mike Leigh's exultant cinematic portrait of the artist Joseph Mallord William Turner is both a luminous tribute to the master of light and a fascinating, meticulous character study of a man who attained greatness whilst resisting the art-world conventions of his time. Eschewing the traditional temporal form of the biopic, Leigh focuses on Turner as a bumptious middle-aged man and traces the last 25 years of his life when his painting was transitioning from representation to the more atmospheric, impressionist work for which he is renowned. Timothy Spall, who won best actor at Cannes Film Festival, is outstanding as the fierce titular subject whose brutish interiority is seemingly at odds with the romanticism of his work. His performance hovers between deep pathos and shrewd appreciation, providing an abundance of memorable scenes: Turner's flagrant disrespect for fellow artists at the Royal Academy; his rudimentary physical encounters with his housemaid; and the awkward blooming of his last affair. The attraction here though is not only the man who made the work, but the work that made the man. Regular Leigh collaborator Dick Pope's glorious widescreen cinematography pays full tribute to an artist whose paintings – like 'Rain, Steam, and Speed – the Great Western Railway' – evoked the moving image before there was cinema.
Clare Stewart