Mimosas
A mesmerising combination of travelogue, mysticism and documentary from Spanish director Oliver Laxe, as a young man goes on a mission in the Atlas Mountains.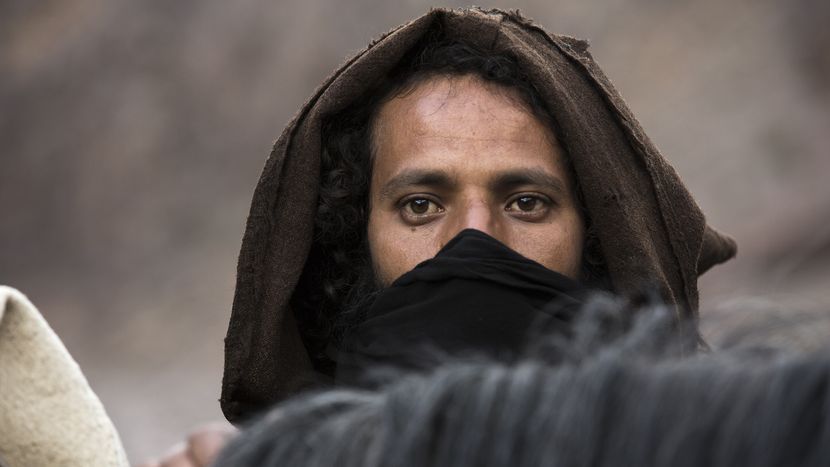 Dir Oliver Laxe
Prod Felipe Lage Coro
Scr Oliver Laxe, Santiago Fillol
With Ahmed Hammoud, Shakib Ben Omar, Said Aagli
Spain-Morocco-France 2016
93min
Sales LUXBOX
If Oliver Laxe's North African odyssey seems eerily familiar, it's because the process of its shooting was glimpsed in Ben Rivers's recent The Sky Trembles and the Earth is Afraid and the Two Eyes Are Not Brothers, in which Laxe starred. The Spanish director's own, very different film is an enigmatic quest story influenced by the tradition of Sufi narrative. It begins in a Moroccan city, where a strange young man named Shakib – possibly mad, certainly a born storyteller – is given the job of ensuring that a dying sheikh reaches his destination on a journey through the Atlas Mountains. Shakib joins the sheikh's retinue, which includes two conspiring dissenters, as it makes its way through perilous and magnificent landscapes – a compelling adventure that certainly doesn't end where we might expect. Combining elements of mysticism, travelogue, ethnographic documentary and the pleasures of elliptical storytelling, Mimosas is open to many interpretations, and a truly original film to marvel at.
Jonathan Romney
Image gallery