Maidan
A visually striking account of the street protests in the Ukraine at the beginning of this year from Sergei Loznitsa, director of In the Fog.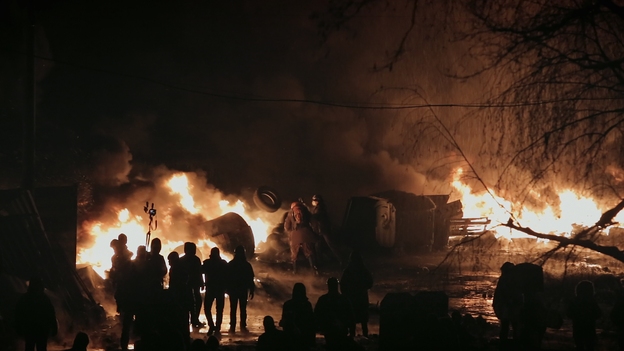 Open image gallery
Director Sergei Loznitsa
Producers Sergei Loznitsa, Maria Choustova-Baker
Netherlands-Ukraine

2014

133 mins
Sales Atoms & Void
After two superb features (My Joy; In the Fog), Sergei Loznitsa returns to his distinctively rigorous brand of documentary filmmaking with this remarkable eye-witness account of the protests in Kiev's Independence Square, which led to the departure of pro-Russian president Viktor Yanukovych. Over three months, Loznitsa and his minimal crew simply filmed, with fixed cameras placed among or around the crowds in the square, whatever happened. And what we see, in long, almost painterly takes and without commentary (occasional inter-titles provide dates and basic context), is a sea of anonymous, discernibly 'ordinary' folk initially involved in a carnival of anthem-singing, speeches, music and food, then, following the anti-protest laws announced in January 2014, caught up in increasingly violent conflict with armed riot police. Painstakingly objective though right in the thick of it, Loznitsa's perspective on historical change makes for an utterly gripping film that's both topical and timeless.
Geoff Andrew