Lost in Paris
Paris pieds nus
Beanpole comedy duo Gordon and Abel return in this ingeniously entertaining story of a librarian searching for her aunt. Misunderstandings and delicious sight gags abound.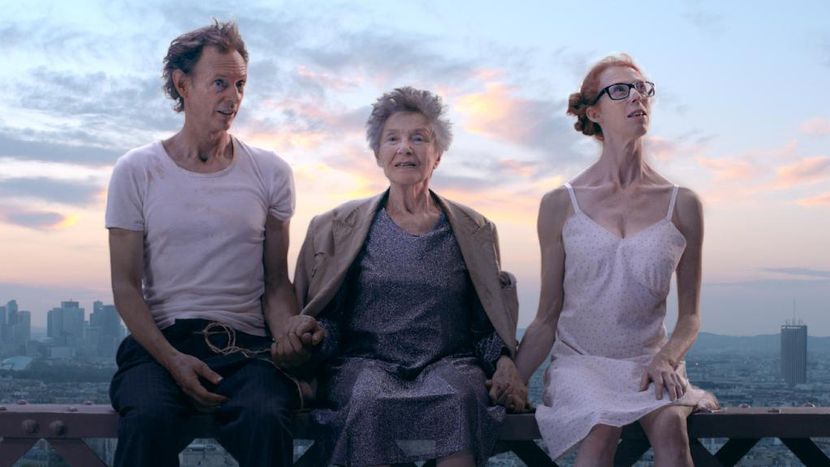 Dir-Scr Dominique Abel, Fiona Gordon
Prod Christie Molia
With Dominique Abel, Fiona Gordon, Emmanuelle Riva
France-Belgium 2016
82min
Sales MK2
These members of the filmmaking team are expected to attend the festival:
Dominique Abel, Director; Fiona Gordon, Director
See the full list of visiting festival guests. Please note that we can't guarantee guest attendance at any particular screening.
The inimitable beanpole duo of Fiona Gordon and Dominique Abel (The Fairy, Rumba) apply their idiosyncratic comic eccentricity to this wayward tale of being down but not out in the City of Light. Gordon plays a naïve librarian who leaves her snowbound home for Paris, to rescue her long-lost aunt (doyenne Emmanuelle Riva, relishing the chance to play farce). On arrival, Fiona loses her rucksack and her bearings but finds homeless Dom (Abel), teaming with him on a series of absurd adventures that showcase the pair's physical elasticity and elegant, Jacques Tati-like comic timing. There's more dialogue than in the team's previous films, but visual comedy remains foremost, from a superb restaurant set-piece to a moment of weightless passion in a pup tent. The duo mix comic-strip visual sensibility with child-like innocence and an outrageous sense of mischief. More fun than a barrel of monkeys let loose on a bateau-mouche.
Jonathan Romney