Letters to Max
The story of the contested state of Abkhazia told though an exchange of letters between the filmmaker and its Minister of Foreign Affairs.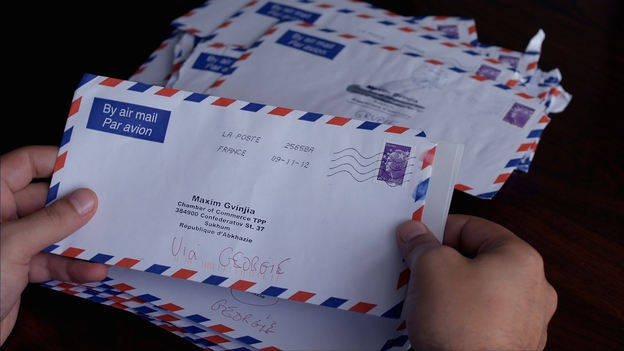 Open image gallery
Director Eric Baudelaire
Producer Eric Baudelaire
Screenwriter Eric Baudelaire
With Maxim Gvinjia
France

2014

103 mins
Production company Poulet-Malassis
When filmmaker Eric Baudelaire posted a letter to 'Maxim Gvinjia, former Minister of Foreign Affairs, Sukhum, Republic of Abkhazia,' he expected it to be returned immediately with a 'destination unknown' notice. To his surprise, ten weeks later he received a phone call from Max saying that he had received the letter but could not reply on paper as the post office in Abkhazia could not handle international mail. So begins a playful exchange of letters and developing friendship between Eric and Max that chronicles the story of the contested state of Abhkazia, which seceded from Georgia during the civil war in 1992-1993 and remains recognised by just a handful of countries. In a year when questions of self-determined statehood are in the forefront of our minds, Letters to Max is a timely meditation on the paradox of a country, both as a physical and legal space, and how new nations might be imagined into existence.
Benjamin Cook