Headline Gala
La La Land
Ryan Gosling and Emma Stone channel old-school Hollywood glamour in this bright and playful romantic musical from director Damien Chazelle (Whiplash).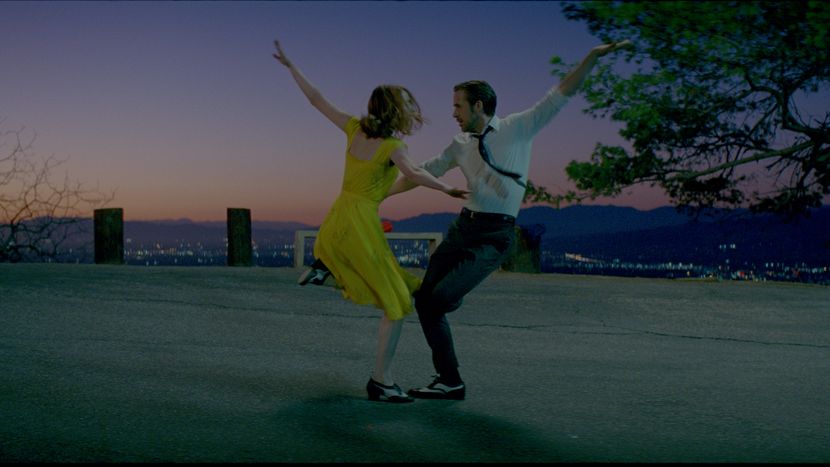 Dir-Scr Damien Chazelle
Prod Fred Berger, Jordan Horowitz, Gary Gilbert, Marc Platt
With Ryan Gosling, Emma Stone, John Legend, JK Simmons
USA 2016
130min
UK Distribution Lionsgate
These members of the filmmaking team are expected to attend the festival:
Damien Chazelle, Director; Marc Platt, Producer
See the full list of visiting festival guests. Please note that we can't guarantee guest attendance at any particular screening.
Damien Chazelle's bitter-sweet love letter to the city of Los Angeles, the golden era of Hollywood musicals and the visual flair of French maestro Jacques Demy, is beyond glorious. It's a perfect confection with medicinal properties! Mia (Stone) is an aspiring actress, barely holding down a day job on a studio lot while juggling auditions for second-rate parts. Sebastian (Gosling) is a pianist who struggles to keep his job at a family restaurant where he plays freewheeling jazz instead of stale, cheesy favourites. Their fleeting first encounter during a traffic jam on an LA fly-over ripples with tension and holds little promise. (The opening sequence alone is a rapturous homage to West Side Story via 8½.) But after a series of blunders and mishaps, romance blooms. Stone and Gosling may well be the sprightliest pairing since Rogers and Astaire, and where Chazelle's first feature Whiplash (LFF2014) left us breathless and immobile, La La Land sends the heart racing and will have you dancing out of the cinema. That said, it's not all sugar and spice and happy-ever-after. There is a disconsolate undercurrent at the film's emotional core – a clear recognition that 'the chase' sometimes takes you away from 'the dream'. Reuniting composer Justin Hurwitz and editor Tom Cross, Chazelle's virtuosic direction is amplified by superb choreography and design.
Clare Stewart
Read Sight & Sound's review of the film, by Tom Charity.