The Keeping Room
On the American frontier a young woman is forced to go to any means to defend her kin from the ravages of the barbaric outside world.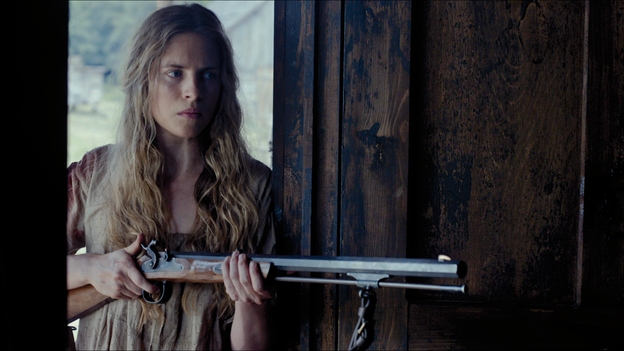 Open image gallery
Director Daniel Barber
Producers Jordan Horowitz, Judd Payne, Patrick Newall, Matt Williams, David McFadzean, Dete Meserve
Screenwriter Julia Hart
With Brit Marling, Hailee Steinfeld, Sam Worthington, Muna Otaru, Kyle Soller
USA

2014

95 mins
UK distribution Lionsgate
British director Daniel Barber's second feature is a gripping, suspenseful drama set in the last days of the American Civil War. Two sisters, Augusta (Brit Marling, Another Earth) and Louise (Hailee Steinfeld, True Grit), together with the family's African American slave Mad (Muna Otaru) fend for themselves on an isolated farm in the absence of their menfolk, who have long departed for the battlefields. When Augusta ventures forth to fetch medicine for her sister, she encounters a pair of marauding Yankee scouts (Sam Worthington and Kyle Soller) with booze on their breath and destruction on their minds. Terrified, she retreats to the farm, certain that she will be called upon to defend all that she cherishes. Brit Marling is mesmerising as this feisty young woman whose instinct to fight and protect never waivers, even as unfamiliar desires take hold. Barber's direction amplifies the tension, striking out boldly with moments of concentrated, explosive action and then lingering to savour the natural lyricism of the land itself (beautifully filmed by Martin Ruhe, Control). Julia Hart's screenplay, which deftly overlays elements of the classic siege structure with the broody, romantic patina of the Deep South, proves rich source material for a filmmaker whose love of the western can also be detected in Harry Brown and the Oscar-nominated short The Tonto Woman.
Clare Stewart