The Innocents
Agnus Dei
Pregnant nuns, shattered faith and female solidarity: a classy and compelling French drama about a young doctor becoming the sole hope for an isolated convent.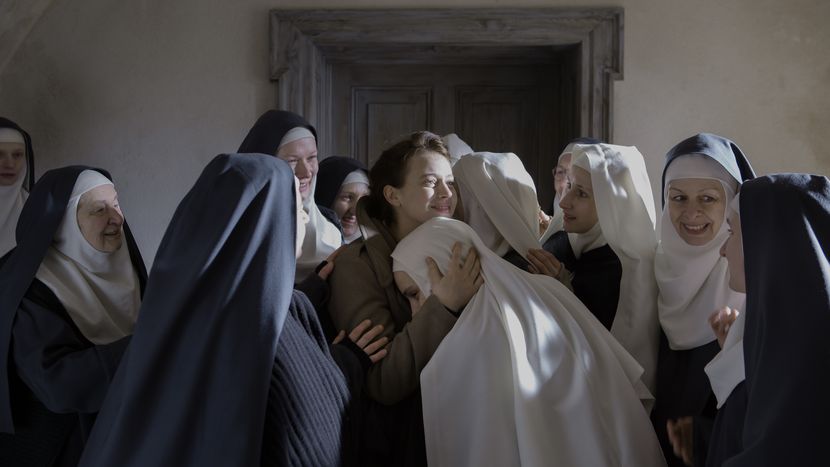 Dir Anne Fontaine
Prod Eric Altmayer, Nicolas Altmayer
Scr Sabrina B Karine, Alice Vial, Anne Fontaine, Pascal Bonitzer
With Lou de Laâge, Agata Buzek, Agata Kulesza
France-Poland 2016
115min
UK Distribution Picturehouse Entertainment
These members of the filmmaking team are expected to attend the festival:
Anne Fontaine, Director
See the full list of visiting festival guests. Please note that we can't guarantee guest attendance at any particular screening.
Mathilde Beaulieu is a young doctor working for the French Red Cross in Poland during the winter of 1945. World War II is dragging on and Russian occupiers control the country. A Benedictine nun from a neighbouring convent comes to find Mathilde, pleading for her help. When Mathilde reaches the convent, she discovers several heavily pregnant nuns, petrified by fear and shame. Director Anne Fontaine (Adore, LFF2013) returns with a compelling and powerful drama based on the diary of a young, fiercely atheist French doctor who became the sole hope for the sisters. Stunningly shot in the mostly confined spaces of a snow-covered convent, this is a poignant story of birth and rebirth, shattered faith and female solidarity, performed by an impeccable cast. Lou de Laâge is luminous as Mathilde, while Agata Kulesza (Ida) is a memorable Mother Superior.
Laure Bonville