Dare Gala
The Handmaiden
Agassi
Park Chan-wook (Old Boy, Stoker) channels Sarah Waters' novel Fingersmith, to create a sumptuous twisty psychological thriller, full of erotic intrigue.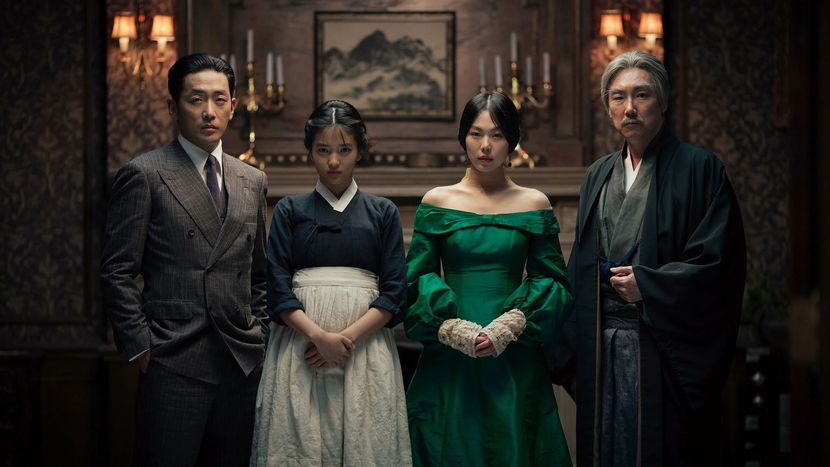 Dir Park Chan-wook
Prod Park Chan-wook, Syd Lim
Scr Chung Seo-kyung, Park Chan-wook
With Kim Min-hee, Kim Tae-ri, Ha Jung-woo, Cho Jin-woong
South Korea 2016
144min
UK Distribution Curzon Artificial Eye
These members of the filmmaking team are expected to attend the festival:
Park Chan-Wook, Director; Wonjo Jeong, Producer
See the full list of visiting festival guests. Please note that we can't guarantee guest attendance at any particular screening.
Young pickpocket Sook-hee is enlisted by Fujiwara, a suave con artist claiming to be a count, to work as a handmaiden for wealthy heiress Lady Hideko. Sequestered in a grand mansion by her pervy black-tongued uncle, Hideko is looking for a way out and Fujiwara expects Sook-hee to help him charm his way into the role of Hideko's husband. But the plan is complicated when the haughty Mistress begins to fall for her new lady-in-waiting. Inspired by Welsh writer Sarah Waters' 2002 novel Fingersmith, The Handmaiden relocates the narrative from Victorian England to 1930s Korea, which is under Japanese colonial rule. This enables production designer Ryu Seong-hie to give full flower to her imagination, creating awe-inspiring sets rich with period detail, blending Japanese and British architecture (and my God – the wallpaper!). Marking Park Chan-wook's first Korean film after Stoker, The Handmaiden continues the theme of revenge so deliciously and obsessively explored in the director's Vengeance trilogy. But here, the erotic is foregrounded, through immaculately composed images that imbue every object with a seductive energy, so that even a pair of gloves thrums with scintillating power. A foxy concoction of exquisite style and thrilling storytelling, The Handmaiden will leave you breathless.
Kate Taylor
Read Sight & Sound's review of the film, by Catherine Bray.
Image gallery