A Girl Walks Home Alone at Night
A mysterious female vampire stalks the streets of a deadbeat town in this arresting debut.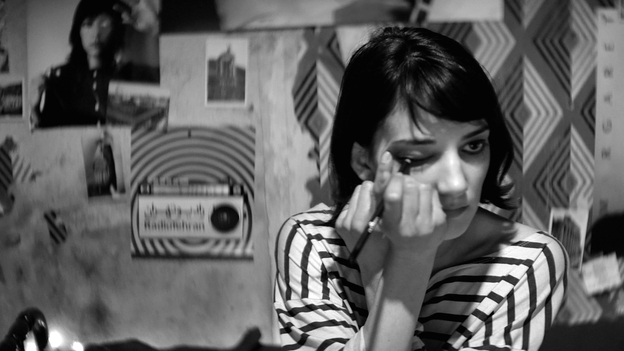 Open image gallery
Director Ana Lily Amirpour
Producers Sina Sayyah, Justin Begnaud, Ana Lily Amirpour
Screenwriter Ana Lily Amirpour
With Sheila Vand, Arash Marandi, Dominic Rain
USA

2014

100 mins
Sales KINOLOGY
In the deadbeat Iranian ghost town of Bad City, a lone female vampire stalks the streets at night searching for prey. One of the town's residents is Arash, who through a series of events involving his junkie father, a prostitute and a drug-dealing pimp, encounters the enigmatic bloodsucker and an unlikely love story begins to unfold. Plot may well be secondary to the striking visual language of Ana Lily Amirpour's arresting debut; its deliberately enigmatic narrative allowing for a superbly ambitious exercise in style and atmosphere. With its stark black and white photography, A Girl Walks Home Alone at Night is in many ways evocative of the works of Jim Jarmusch, although ironically it bears the strongest resemblance to his early masterwork Stranger than Paradise than it does his own recent vampire film Only Lovers Left Alive. But while Amirpour's influences are clear, in her effortless blending of multiple genres and monochromatic evocation of a matriarchal underworld, her voice as a singular and exciting new talent is undeniable. If you only see one Iranian vampire western this year, make sure it's this one.
Michael Blyth